A webinar on policy and governance is being organised on Scales & States. Policymaking, decision making, law and economics are something that invites intellect and intrigue. And, if you are someone interested in those matters, then you are definitely in the right place at the right time.
Scales & States, a policy, law and economics forum is organising the webinar on 30th July 2020 at 4 PM. The student-run organisation is coming up with a webinar with a special guest.
Ms Tarika Roy, an Indian Railway Accounts Service (IRAS) officer, who is currently serving as the Joint Secretary at the Department of Disabilities Affairs at the Ministry of Social Justice and Empowerment, Government of India. Ms Roy is an able and eminent bureaucrat with more than two decades of experience in working in the government and related sectors.
What Is The Webinar About?
The webinar, being conducted by the student-run forum, will mainly focus on the ways in which the government tackled the list of issues around COVID-19.
Ms Tarika will be explaining about the issues she faced as a bureaucrat and her roles in the entire scenario. She will be throwing light on the issues around health emergencies, and the ideal steps a government takes during these times.
Moreover, a discussion on how the government is working on the issues pertaining to the specially-abled.
Register here
Why You Should Attend It?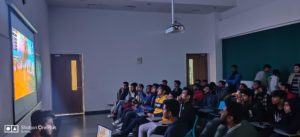 Scales & States has been focusing on the issues related to policymaking since it's inception.
The senior bureaucrat being focused on their session will be helping the attendees learn about the day to day functioning. Adding to it, Ms. Tarika will be addressing the issues and imparting information on the workings of the government.
Being a student-run forum, Scales & States focuses on topics correlating with the interests of the students. The organisation aims at taking up the issues which are relevant and thought-provoking.
What is Scales & States?
Scales & States is an upcoming law and policy forum being run by a bunch of policy geeks. Being run by a bunch of students, the forum focuses on the matters relating with policy, decision making and a lot more.
With their daily thought-provoking content, they tend to provide impeccable information on a plethora of issues.
So, if you are one hell of a policy nerd, then hop on the S&S wagon today!