Sri Venkateswara College (SVC) has seen tremendous development since its inception. It began functioning modestly in a school building of the Andhra Education Society at Rouse Avenue, New Delhi with 273 students and 13 staff members and moved into its own spacious buildings in Dhaula Kuan in 1971.
So Are you bored and tired of college internals and assignments? Is the pandemic getting a bit too much? Worry not !! The Department of Political Science, Sri Venkateswara College, DU proudly presents to you,
Vritतान्त
#VocalisingVisions
A 3 days' Virtual Conclave on the auspicious occasion of United Nations' 75th Anniversary
From 22nd to 24th October 2020
This virtual conclave will be spanning over three days, with something unique on each one!
Day 1: Panel Discussion
On 22nd October 2020, from 11 a.m. onwards
With two prominent academicians and an esteemed diplomat:
1. C.S.R. Murthy 
• Professor at JNU
• 30+ years experience in International Politics and Organization
• Authored many books and journals including a very recent one in 2020 i.e. "India in United Nations
2. Harsh V. Pant 
• Professor at King's College London
• Expertise in India's foreign policy
• Authored multiple books including, "India's Foreign Policy: An overview (2016)", Indian Nuclear Policy (2018)" and "China Ascendant: Its Rise and Implications (2019)".
3. Amb. Arun Kumar Singh 
• Indian Ambassador to the United States, France, and Israel
• Former Joint Secretary to the Ministry of External Affairs, Government of India
Day 2: Engrossing Competitions
On 23rd October 2020 from 12 p.m. onwards
1. DISCOURSE – An Extempore Debating Competition to be conducted on Google Meet.
2. POLANDBALL – A Quiz on Global Politics to be conducted on Discord.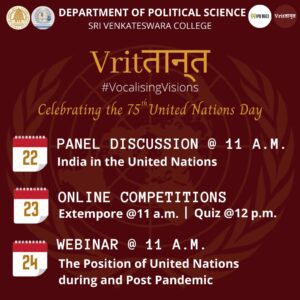 Day 3: Speakers' Session
On 24th October 2020 from 11 a.m. onwards
With two of the reputed diplomats:
1. Amb. Dilip Sinha 
• Permanent Representative of India to the United Nations in Geneva
• Ambassador of India to Greece
• Vice President of UNHRC, Geneva (2014)
• Authored a book, "Legitimacy of Power: The Permanence of Five in the Security Council" (2018)
2. Amb. Vijay Nambiar 
• Chief of staff to UN Sec. Gen. Ban ki-Moon
• Former Deputy National Security Advisor
• India's permanent representative to the UN
• Ambassador of India to Pakistan, China, Malaysia, Afghanistan, Algeria.
Today, SVC has around 3888 students on its rolls, offers more than a score of different courses in the Humanities, Commerce, and Science disciplines with 231 teaching and non-teaching staff. Apart from the formal academic courses the college now offers 3 Vocational courses and several short-term add-on courses that serve as significant supplements to the academic profiles of the students. The College also offers 11 Postgraduate Courses for study. With the provision of the apposite intellectual and moral matrix, young minds are trained to explore and realize their full potential, ultimately becoming equipped to face the challenges of the new world.
The Political science department of Sri Venkateswara college is organizing – Vrittant, a conclave celebrating the 75th United Nations day. They have invited the most sought-after academicians and esteemed ambassadors to talk about India's role in the United Nations as well as to explain the intricacies involved in the functioning of the United Nations during the pandemic and how relevant is the organization going to be in the future considering the current turn of events. And their aim is to enlighten people about the role that the United nation plays in the current world scenario.
So what are you waiting for? Register at the link mentioned below and be a part of this inquisitive, intellectual and interesting journey of three days!
Register HERE  now!
Follow us on Instagram and Twitter for more updates!