The crime against women in India is going up the scale day by day. We get to hear about eve-teasing or rape cases every day, from someplace or the other. And the same question arises every day – "What is our government doing to ensure safety of girls all over the country?"
Another incident of eve-teasing took place in Bulandshahar district, UP where a 20-year-old girl Sudeeksha Bhati lost her life after her two-wheeler met with an accident on road and died on the spot.
Who was Sudeeksha Bhati?
Sudeeksha Bhati was a 20-year-old girl, a brilliant and meritorious student. She secured 98 percent marks in her class 12 CBSE boards in 2018. She won a scholarship worth Rs 4 crore to pursue higher studies at Babson College. She was pursuing an undergraduate course in entrepreneurship from the US. She also topped in her intermediate college exams.
She had to return to the US on August 20 but little did she knew her life was going to end in such a condemnable manner.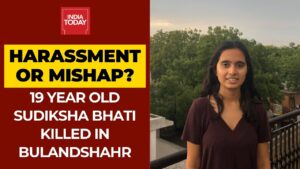 How The Accident Took Place?
According to Sudeeksha's father Jitendra Bhati, she was going to her relative's place in Aurangabad with her uncle, reportedly. She was riding pillion on a two-wheeler when her scooty collided with a bike of men who started harassing her, which allegedly led to the accident.
According to the investigation of the police, both Sudeeksha and her uncle were not wearing helmets when their scooty crashed into a bullet motorcycle when Sudeeksha fell down and died on the spot.
UP Government on The Incident
UP CM Yogi Adityanath has taken cognizance of the case. He has given a 24-hour deadline to Bulandshahar police authorities to arrest the culprits and bring them to book.
The question of the safety of women still remains open as people do not seem to be scared of the police. If this continues how will girls of the country progress?
Follow us on Instagram and Twitter for more such updates!