Almost all of us have heard about MBA and have even given a thought to pursue this course but very few people know the details about the course and the MBA colleges in GGSIPU.
Master of Business Administration is a 2-year post-graduation degree offered by GGSIPU.  The two-year program is a gateway to a plethora of job opportunities in the corporate world. In this article, we will tell you the top 5 MBA colleges in GGSIPU.
NOTE: The below ranking list is based on the previous year cut off issued by GGSIPU.


Top 5 MBA Colleges in GGSIPU
1. University School of Management Studies, Dwarka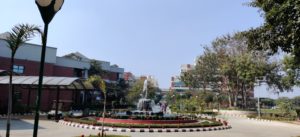 University School of Management Studies (USMS) is an on-campus school of Guru Gobind Singh Indraprastha University. The school, within a short span of time, has developed itself as a unique and progressive school with its distinct curriculum and innovative teaching methodology.

The intellectually stimulating environment at the school provides a nurturing ground for developing competent management professionals in tune with the changing business environment and emerging managerial needs.

The study structure helps the students in developing an analytical bent of mind and prepares them to become competent and understand the dynamics of the business environment. The School is ranked 57th in the National Institutional Ranking Framework 2020 under the Ministry of Human Resource Development, Government of India.
2. Maharaja Agrasen Institute of Technology, Rohini


MAIT ranks second in the list. It has Mahajara Agrasen Institute of Management (MAIMS) for management courses like BBA. It has clearly made a mark for itself as one of the best BBA colleges in GGSIPU.
The college has a vast campus with more than 9 blocks. However, the downside being the college's location.
It is located further 6 kilometres away from the Rithala Metro Station. The infrastructure is pretty good with huge libraries filled with books.
The placement is good and helpful if you have a zeal to learn. The college offers a few societies for students. Placements are average with Infosys and Accenture generally being the mass recruiter
3. Delhi Institute of Advanced Studies, Rohini



MBA at DIAS facilitates the students to become specialists in different functional areas of management grab excellent job opportunities in the country and abroad become effective leaders, who can achieve exceptional results and transform organizations Strengthen their decision-making capabilities in different functional areas of management
Develop a holistic perspective and global mindset to problems of the enterprise
Foster a better understanding of the working of the Government, Public and Private Sectors
Inculcate values of integrity, justice, and fairness
Teaching methods for MBA at DIAS include- lectures, case studies, seminars, group discussions, role-plays, simulation exercises, extensive on the job industrial training, real-life projects, and field visits. The emphasis is on involving the students in the learning and helping them to relate concepts and theories to business requirements
4. Banarsidas Chandiwala Institute Of Professional Studies, Dwarka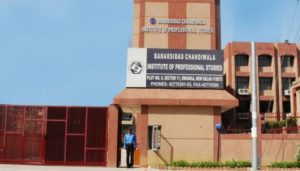 Dedicated faculty will implement the teaching-learning process at BCIPS through rigorous planning and keeping in view the industry needs. Students at BCIPS are exposed to research on the topics that are outside the syllabi, latest trends in the industry and technology will be grasped, analyzed, and presented through seminars by the students, faculty, and experts from industry and academia. To develop an integrated knowledge of industry students will carry-out projects in every subject in teams.
A personality development module is also integrated with the syllabi so as to help them expand their skills and knowledge eternally beyond the visible capabilities.
5. Bhai Parmanand Institute Of Business Studies, Shakarpur
Its faculty strives to equip young people from all over the country to make meaningful contributions to an economy that is increasingly becoming a significant entity in the global arena.

BPIBS Institute uses rigorous and intensive integrated teaching methods to prepare the students to take up business and managerial positions in any environment The Undergraduate courses emphasize the combination of core business subjects and soft skill courses which lead to total personality development of the students.

Academic excellence, holistic education, global relevance, and contemporaneous curriculum continue to be the cornerstones of BPIBS Institute s educational edifice. 
We hope you find this article helpful. Do let us know if we missed any college.