The Old Guard is a 2020 action/fantasy movie in the superhero genre. The movie us directed by Gina Prince-Bythewood. It is based on the comic book written by Gregory Rucka. The screenplay of the old guard is also written by Gregory Rucka. The movie provides a sophisticated vision to the superhero genre.
The movie portrays the themes of friendship among the group of four people, immortality, love between two men, acceptance of reality, and betrayal.
Cast | The Old Guard
Charlize Theron, Harry Melling, Kiki Layne, Luca Marinelli, Matthias Schoenaerts, Marwan Kenzari, Chiwetel Ejiofor, Ngo Thanh Van, Haruka Ohshima, Joey Ansah, Mette Towley, Anamaria Marinca, Shala Nyx, Michael Ward
Where to watch: Netflix
Commitment: 2 hours 5 minutes
IMDb: 6.7/10
Rotten Tomatoes: 81%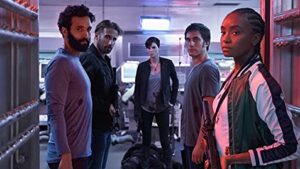 Overview | The Old Guard
The Old Guard depicts the oldest immortal Andy along with a group of three men, immortal mercenaries with special powers or ability to heal themselves. The movie is full of action-packed sequences with excellent cinematography. The work done while making of this superhero action movie is top-notch. It is undoubtedly a perfect blend of action and emotions.
The plot revolves all-around the group of four mercenaries/superheroes who have secretly protected humanity for centuries and the secret about their special powers as well. Soon they get to know that they are being targeted by someone for their mysterious powers.
While they move on for their mission, they discover a new young immortal just like them. Initially, the young superhero finds all of this absolutely unusual and abnormal but still winds up in the company of the Old Guards.
Watch how the group of these five sophisticated superheroes protect themselves from the evil intentions of their enemy.
FOR MORE UPDATES, FOLLOW US ON Instagram!