Technical glitches working as a 'glitch in the system', and making the lives of students miserable.
Covid-19 pandemic disrupting the lives of humans has strenuously surged the use of technology in every sector including education.
The disheartening situation of technical barriers was felt when the teachings shifted from the traditional classroom to online platforms. As the country battles, the second wave of the pandemic, universities took the decision to conduct exams by adopting technological tools.
With universities all around the country, GGSIPU too faced the aftermath difficulty of this and now students are paying the consequences of the shortcomings of the system.
GGSIPU Students: Victim of Technical Glitches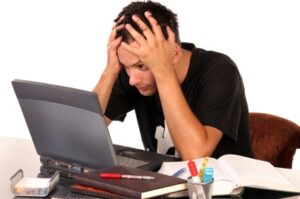 GGSIPU used Wheebox, an online assessment platform to conduct their semester-end exams. But students were facing many problems due to the application, as it was difficult to get adapt to that.
But the real problem lies beyond that, as the students who faced technical issues suffered the most. University claimed that if there's a technical issue during the exam hours, the student can give the exam again.
As students do not have the control over internet, system, or application failure, assuring them that they don't have to worry about that is an ideal and appropriate approach.
But this reassurance was proven to be wrong, when some students who faced such problems received 'absent' in their results.
Immediately after encountering the technical issues, they asked to submit a Google form listing the problems. Students did all the formalities and yet they did not get the opportunity to reappear for the exams.
Many students from several colleges of GGSIPU stated that the university is not helping them regarding this situation. Till now those students didn't get the information about the resit of examination.
The lack of communication of university with students resulted in this situation of students being unaware of what will happen to them. This in turn resulted in the feeling of insecurity and uncertainty. With students constantly contacting the university, their questions are being unanswered.
Nothing To Worry About?
However, as the norm goes, there might not be much to worry about. The semester exams for the same might be conducted in the alternate exams. While this is just an assumption, it can certainly help a lot of students worry a bit less.