Who does not misses the offline pandemic fests? Societies preparing year around for that one fest the entire year and students preparing and waiting for those 3 days of utter madness.
Talaash, A Jai Hind College, BMS Initiative is the largest management fest all over Mumbai. This year the festival will be taking place on the 5th, 6th and 7th of February 2021, registrations for which are now open.
Some of the events are:
Treasure hunt
Who does not misses the pre-pandemic times? The adrenaline of cracking clues and then going to another and the final race to the final clue and BOOM the release! Treasure hunt needs no special explanation.
Feel the beat
As the name suggests we would want y'all to send in your best dancers for this one. We would require y'all to pre-record and send in these videos. Now you can choose to meet up and perform together, if that's convenient and more importantly safe, on the other hand, it can be a split-screen performance.
The dance theme this year is "Over the Decades". You and your team have to show the change in the dancing eras. Starting from the 1980s, you've to choose songs from each decade and show a transition from the 1980s to 2020.
InSync
You are required to send 2 melodies/ tunes to us by the 30th January 2021. Now, these melodies can be played on an instrument or can be electronic, depends upon you. Once we receive these melodies from you, we will be sent to you a list of 5 random words. (You will have to sing songs with those words and put them into one of your tunes/melodies. Eg. Sun (translation allowed). It should be a pre-recorded video which will be streamed on youtube.
Time limit 6 -10 minutes
Number of people allowed: 4-8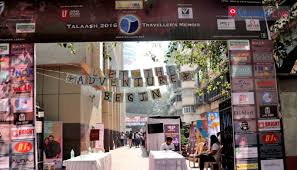 Feel the beat
Feel the Beat is a Dance event. This year the theme of the event is the evolution of dance (1980s to 2020s). You can choose any dance form and use any music (have to start from old songs to new).
Number of participants: 4-8
Time limit: 5-10 minutes
It is supposed to be a pre-recorded video which will be uploaded on YouTube
Editing of the footage is allowed.
Paint it Right:
Paint it Right is a Painting event. It is solely a painting event. It will be held online on the days of Talaash. It is also a solo event where every individual will be for himself.
The poetry aspect to it is not there anymore.
No. of Participants: Uncapped
Kaun Banega Crorepati
A stock market event. Show your trading skills over a period of 5 days. Registrations close on 31st January 2021. No. of participants: Uncapped. The event will go on for 5 days.
For Vogue and Vibin' and Feel the Beat, please remix the songs you're using. As it's going to be posted on YouTube.
It's not mandatory to do so but it's recommended because if your video is pulled down by YouTube for copyright infringement, it won't be our fault.
Winners of these events get prizes up to ₹1,00,000!!
To register, head over to www.talaashjhc.com
For more updates follow us on Instagram and Twitter!