Are you interested and theatre? or a part of Theatre society? Then we have something exciting for you!! "Taabiir", Theatre Society of DME, is going to host an Inter-College Monologue competition on 18th September 2020 from 3 pm onwards on Zoom.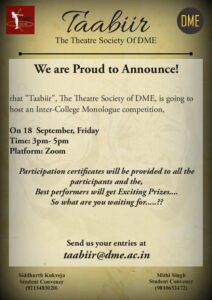 Rules and Regulations| Taabiir
Live monologue competition on the zoom platform.
The event will be bilingual, including English, Hindi or Hinglish.
A student associated with any college/university can participate.
Every participant will get a minimum of two minutes/maximum three and a half minute to showcase their piece, after which points will be negatively marked.
The content should not involve any statement or action which may hurt the sentiments of any particular person, community, race, or gender.
Participants are free to choose any topic but obscene and seditious content will not be entertained.
Any violation of the mentioned rules will lead to disqualification.
The decision of the judges will be final.
Participation certificates will be provided to all the participants and the. The best performers will get Exciting Prizes…!!!!!
So what are you waiting for…..??
Kindly register yourself through the google form link mentioned below
Register here: Monologue Competition
Follow us on Instagram and Twitter for more updates!