The agitated students have decided to knock the Supreme Court's doors against UGC guidelines for the final-year exams.
According to the guidelines, all the universities have to conduct final year exams by the end of September. Students have been against the final-year exams for various reasons. UGC has chosen to ignore students' voices and grievances and decided to conduct exams anyways. Students were therefore forced to take their pleas to the supreme court. Students move SC against UGC guidelines in hopes of some justice.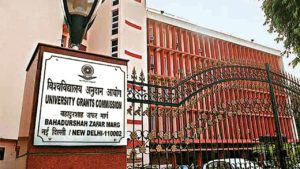 The students filed a petition against UGC guidelines. At least 31 students have filed a petition. The students belong to various universities in 13 states and one union territory. One of the students is a COVID-19 patient. All these students filed a petition to make education a fair field. A field where it is the same for every student.
All About The Petition | UGC Guidelines
The petition has been filed on the following grounds-
Fundamental Right to Life under Article 21 of the Constitution- The UGC guidelines violate this right. With numbers soaring in India, it is dangerous to conduct exams offline for both the students and staff.
Lack of infrastructure- All students don't have equal access to the internet, laptop, and smartphones. DU OBE mock exams are an example of the lack of infrastructure for students and DU both.
Calamities- The floods in Assam and Bihar and the cyclone in West Bengal impacted the residents heavily. Amidst such calamity, expecting students to appear for exams is inhumane. Moreover. there are students who are COVID-19 patients. It is unhealthy for them to sit for an exam that requires their mental and physical resources.
Problems- Many students are facing problems in either seeking jobs or their post-graduation. students had their degrees by the end of July. Many students are running into trouble due to a lack of degree and mark sheet.
Alternative To Exams?
Petitioners have suggested that previous semester marks and internal assessment should be used to award degrees. Students should later have access to give exams if they are dissatisfied with their marks. The universities should award the degrees latest by 31st July 2020.
Follow our Instagram, Facebook, and Twitter for the latest updates and wholesome content.