"The painter has the Universe in his mind and hands."
― Leonardo da Vinci.
Dive your "oh so boring" time into sketching, painting, making a mandala, any kind of craft. Hold on to your brushes and paint your creativity.
Expressions, the fine arts and craft society of Maharaja Agrasen Institute of Technology (MAIT) are organizing a Summer Online Art Competition. The competition is open to all college and school students (above 9th).
Expressions | Online Painting Competition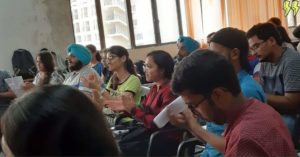 Each competition has some rules and regulations and for this one, the rules are as follows:
Every participant is allowed to submit only one entry. Entry can be submitted by messaging on the official Instagram page or you can email at expressions.mait@gmail.com
The entry can be of any medium(other than digital art), based on the given theme of the competition.
Entries of portraits will not be accepted.
Entries will be accepted from 11th July to 31st July. No entries will be accepted after 31st July.
Plagiarism is strictly prohibited. Entries will be disqualified.
The entries will be posted on Expression's Instagram page (17th July onwards) and you are required to get maximum likes on your post.
The likes of your friend on post will be counted only if the person liking the post follows the page.
Participants must submit their name, contact number, Email ID, Instagram username, and college/ school name along with the submission. Else, the entry will not be accepted.
Participants can also send an explanation for their artwork if they want.
The number of likes constitutes 30% of the judgment. Judgment by judges and creativity will respectively constitute 50% and 20% of the total judgment.
No likes will be counted after 5th August 2020.
All the participants will be awarded E-certificates.
The winners will be awarded certificates and will receive a shout out on our Instagram page.
For all the artists out there, grab this opportunity to showcase your artistic side!