The GGSIPU fees issue has made the students around the university anxious and desperate. The desperation seems valid, considering no clear announcement on the issue has been made yet.
Keeping the plight of the students in mind, a survey was conducted. In the survey, it was revealed that almost 60% of the students find it difficult to pay the same amount of the fees. Most of the respondents stated a 'poor financial condition' than earlier it used to be, the reason behind the inability to pay the amount.
What's The Entire Scenario? | GGSIPU Fees Issue
Around a month back, most of the students from prominent colleges of GGSIPU received a notice in regards with payment of fees. This didn't sit well with most of the students.
While the students understood the practical reasoning behind the fees, it didn't seem fair to many. According to many students, asking the same fee amount as it used to be during the normal times, is something inimical. from colleges' end.
The students were of the opinion that they haven't been using the same amenities as labs, classrooms and other infrastructure, then why should they pay the same amount.
Is it justified to pay lakhs in one go for studying through online means and where no facilities are used for which the fees is levied
We all are facing economic crisis
My Father lost his job
I demand FEES In INSTALMENTS #ipufeerelaxation#ipufees @HRDMinistry @GGSIPUIndia

— Ravi Kumar (@RaviKum12933371) August 7, 2020
Colleges' Response | GGSIPU Fees Issue
While some of the colleges did respond to the issue, many didn't feel like addressing it. This led many students to take their ordeal on Twitter.
The fee hike is a result of a recommendation passed by the State Fee Regulatory Committee. However, it should be noted that the issues relating to the fee hike are prominent in the affiliated colleges and not in the USS (University School of Studies).
On 22 April 2019, the Supreme Court had rejected a Special Leave Petition filed by the students. It was after this that the institutes started sending the fee arrear notification.
A Student's Ordeal
At the end of the day, it's the student who needs to deal with the dilemma of paying a huge amount. Not only this puts economic stress for many students, it further deteriorates the mental state for many.
The story of the students dependent on scholarships gets even worse.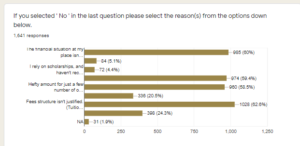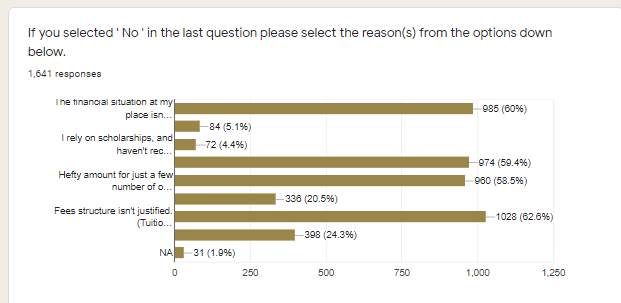 The entire scenario seems to bring out the reality behind educational institutions. If unprecedented times, require unprecedented measures, the fees shall be unprecedented as well.
Stay tuned as we bring out the data behind what the students said on the entire fee fiasco in GGSIPU.