On 7 July, 2020, University Grants Commission (UGC) released its revised guidelines on examinations and academic calendar for the Universities in view of COVID-19 pandemic. As per the guidelines, the terminal semester/ final year students' examination will be conducted by the end of September in online/ offline (pen and paper)/ blended (online and offline) mode.
The MHA and MoHFW have also given the due permission and the universities will be allowed to conduct exams keeping all the social distancing protocols put in place by the government.
Thirteen days after the Centre asked the UGC to review its guidelines for final year university examinations, the final year students have finally gained some clarity. However, clarity is such that it makes them even more tense and anxious.
Why Did UGC Revisit Their Guidelines? | Revised UGC Guidelines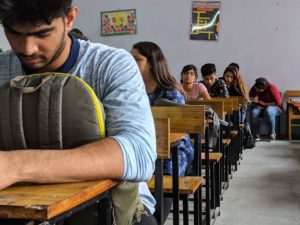 In its guidelines, UGC specified the importance of examinations for ensuring academic credibility, career opportunities and future progress of students globally. Academic evaluation of students is a very important milestone in any education system which can not get bypassed. 
For Students Unable To Appear | Revised UGC Guidelines
In case a final year students is unable to appear in the examination for any reason, he/she may be given the opportunity to appear in special examinations for such course/ paper which may be conducted by the university as and when feasible. This is applicable for the current academic session (2019-20) as a one time special measure.
For Students With Backlogs | Revised UGC Guidelines
The students of terminal semester/ final year students having backlog should compulsorily be evaluated by conducting examinations in offline, online or blended mode as per feasibility and suitability
For Intermediate Semester Students | Revised UGC Guidelines
The guidelines regarding intermediate semester/ year examinations will remain unchanged as notified on 29th April, 2020.
Other Important Pointers From The Guidelines 
1. The relevant details, if need be, pertaining to the Admissions and Academic Calendar in the universities and colleges shall be issued separately in place of those mentioned in the earlier guidelines issued on 29th April, 2020.
2. Notwithstanding the mentioned guidelines regarding conduct of examination and commencement of next academic session, every university/ institution has to ensure that it is prepared in all respects to carry out the academic activities following necessary protocols/guidelines/directions/advisories issued by the Central/State Governments and MHRD/ UGC from time to time, in view of COVID-19.
Follow Us On Instagram and Twitter For The Latest Updates!