KIET is all ready to organize their independent TED event which gives a platform to speakers and participants to converse about things which matter. It also focuses on expanding the length and breadth of the audience's mind with ideas that are worth sharing!
Get ready to glue up to your screens on the 5th and 6th of September 2020 to connect with ideas, thoughts, designs, humanity, and many more domains, VIRTUALLY!
Yes, They are focusing on the theme "READY TO CONNECT?"
ABOUT THE THEME- READY TO CONNECT?
This theme will help you with connecting to yourself, designs, theories, and humanity. It'll be informational and yet exciting and entertaining as this theme covers a large domain of ideas that are worth spreading, sharing, imbibing, and living by.
As the name suggests, the sessions will help the audience to find and nurture their own talent, potential, and realizations that what and how they can contribute to be better and to make the best.
SPEAKERS
The event will be having a diverse set of speakers who will motivate, educate and
inform audiences about the odds and opportunities of life which will surely gonna help in their future endeavors.
1. Guneet Sethi: She is a Teacher, Communications Manager, Creative Writer, Trainer, and Motivational Speaker: all while being visually impaired.
2. Ujjwal Kumar: He is a percussionist whose love towards music is never-ending. He has been classically trained in tabla and has then transformed his skills to other percussion instruments like a matka or a handpan.
3. Lush Monsoon (Ayushmaan): He is a Lawyer who embraces the name "Lush Monsoon" when he performs as a drag queen.
4. Mohit Shridhar: He is a Kathak dancer and an influential force in India's world of classical dance. His dance is a portrayal of the most sophisticated form of imagination.
5. DJ Myris (Prateek Choudhary): He is an EDM Artist who's been taking the Indian EDM with a storm. No matter how big or small the crowd is, Myris has always connected with his audience and has touched their hearts.
6. MBA Chai Wala (Praful Billore): He is an Entrepreneur who became India's second-biggest chaiwala and starting his own venture of selling tea on the streets of Ahmedabad.
Dance. Music. EDM. Motivation. LGBTQ Drag. Entrepreneurship
Exciting, isn't it?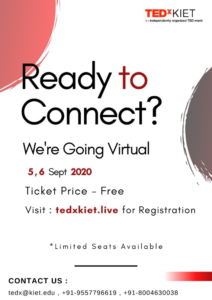 DETAILS OF THE EVENT
Date: 05-06 September 2020
Time: 5-6 pm (on each day)
Cost: Free of cost
Mode: Online
Platform: Microsoft teams
A magical experience this truly is gonna be!
It would not only be an opportunity for all of us to
connect to each other and to different streams of
ideas but will also motivate all the attendees and
our team in many ways.
So are you READY TO CONNECT??
This is surely going to be an amazing experience for you. TEDxKIET is giving you a wonderful opportunity to connect to each other and to different dimensions of ideas. DON' T MISS THIS OUT ON ANY CHANCE!
"You are cordially invited to TEDxKIET 2020
We solicit your gracious presence at the event."
-Team TEDxKIET
Follow us on Instagram and Twitter for more updates!