Prashant Bhushan. As per Live law, The Supreme Court on 14th August found lawyer Prashant Bhushan guilty of Contempt of Court in the suo motu case against him related to two tweets posted by him on June 27 and 29.
Overview
Prashant Bhushan is a public interest lawyer in the Supreme Court of India. He was a member of the faction of the India Against Corruption (IAC) movement known as Team Anna which supported Anna Hazare's campaign for the implementation of the Jan Lokpal Bill.
Son of  Shanti Bhushan and Kumud Bhushan. His father Shanti Bhushan is a lawyer-activist and a former Union Law Minister in the Morarji Desai government. A law degree holder from Allahabad University, while still in his students Bhushan authored a book called The Case that Shook India, a book on the case that set aside Indira Gandhi's election in 1974.
Also read NEET, JEE: Over 150 Academicians Write To PM Modi In Favour Of Conducting Exams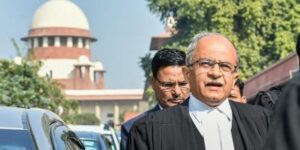 Judicial Accountability
1993, after the Supreme Court Justice V. Ramaswami was not impeached by parliament on corruption charges. In 2007, Bhushan expanded CJA to include citizens and formed the Campaign for Judicial Accountability and Reform (CJAR).
In 2009, Prashant Bhushan represented activist Subhash Chandra Agrawal, asking for the Supreme Court and High Court judges to be brought under RTI. The judges were forced to declare their assets and post it on the court websites
Bhushan has recommended amendment to the Contempt of Court Act clause, stating that some of its clauses effectively prevent the press from exposing the corruption in the judiciary. He has also opposed the rule which prevents people from registering a FIR against a judge without the permission of the Chief Justice of India.
Prashant Bhushan acted for the CPIL when it took the lead in filing a suit against the Government of India for irregularities in a major award of spectrum for 2G mobile telephones. In February 2012 the Supreme Court declared the allocation of spectrum had been illegal.
Prashant Bhushan represented whistleblower Anand Rai in the ongoing PIL regarding the Vyapam scam in the Supreme Court.
Prashant Bhushan has criticised the use of violence against the Naxal insurgents in the tribal-dominated areas.
In 1990, he successfully got the criminal liability aspect in the Bhopal gas tragedy reopened by SC, by challenging the settlement in the case of compensation to the victims. This reopened the case against the former Chairman of Union Carbide Corporation Warren Anderson (now deceased).
Bhushan assisted the Narmada Bachao Andolan activists opposed to the Sardar Sarovar Dam. Another popular name associated with Narmada Bachao Andolan is Medha Patkar.
More popular cases related to Prashant Bhushan can be, Jan Lokpal Bill Kashmir Issue Controversy in which Bhushan demanded the revocation of AFSPA in Jammu and Kashmir.
Prashant Bhushan co-founded the Aam Aadmi Party (AAP) in 2012 but in 2015 was voted out along with Yogendra Yadav on grounds of anti- party activities.
Books 
The case that shook India (1978)
Bofors, the selling of nation (1990)
(with inputs from scroll and others)