The NEET (National Eligibility cum Entrance Test) and JEE (Joint Entrance Examination) are supposed to be held next month i.e. September 2020.
Many JEE and NEET students are opposing the conduction of the exams amidst ongoing coronavirus pandemic. However, over 150 academicians and scholars seem to be in favor of the conduction of examinations.
More than 150 academicians and scholars from various universities across the world wrote a letter to Prime Minister Narendra Modi in favor of conducting the JEE and NEET, 2020 examinations, on Wednesday.
The Letter Written To PM Modi
The academicians mentioned in the letter that, "Youths and students are the future of the nation but in wake of the COVID-19 pandemic, clouds of uncertainty have gathered over their careers too. There are lot of apprehensions about admission and classes which need to be resolved at the earliest."
Like every year, this year too millions of students have passed their Class 12 exams and are now waiting at home to eagerly take the next step, the letter further said.
The letter further said that "The government has announced the dates for JEE-Mains and NEET any further delay in conducting the exams will result in a waste of a precious year for students. The dreams and future of our youth and students cannot be compromised at any cost. However, some are trying to play with the future of our students simply to propel their own political agenda and oppose the government."
"We strongly believe that the central government will successfully conduct the JEE and NEET exams taking full precautions to ensure that the future of students is taken care of and the academic calendar for 2020-21 is rolled out," it added.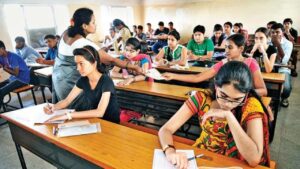 The Signatories Included Academicians From Various Universities
The signatories included academicians from the Delhi University, IGNOU, Lucknow University, JNU, BHU, IIT Delhi and Indian academicians from Foreign Universities such as the University of London, University of California, The Hebrew University of Jerusalem and Ben Gurion University, Israel, among others.
Among the signatories were former IGNOU chairman CB Sharma; Sanjiv Sharma, V-C of Bihar's Motihari University; Jayprasad, pro-VC of the Central University of Kerala; Hiraman Tiwari, Ainul Hasan and Mazhar Asif, all from the JNU; Raghvendra Pratap Singh of the Lucknow University; and Venkat Krishna from IIT-BHU, among others.
Although many students are expressing their grievances regarding the conduction of examinations during this time still over 14 lakh admit cards for the medical and engineering entrance exams NEET and JEE were downloaded after the National Testing Agency (NTA) released them on Wednesday.
Follow us on Instagram and Twitter for more updates!