Amid this pandemic covid19, JEE MAINS and NEET exams were initially postponed till September. Uncertainty has always been a tragic part of student life. The schedule for NEET (national eligibility cum entrance test) and JEE (joint entrance exam) MAINS exams was decided by a committee set up by HRD minister, Ramesh Pokhriyal.
The aim of the committee was to take cognizance of the COVID-19 situation in India and plan JEE MAINS and NEET exams in a safe manner. The students and parents have been concerned about the safety of exams. They urged the HRD minister to reconsider the schedule for the exams. The middle Eastern parents whose children would be appearing for the exams had filed a plea with the HRD for a confirmation.
Many students are opposing the conduction of the exams amidst ongoing coronavirus pandemic. However, over 150 academicians and scholars seem to be in favor of the conduction of examinations.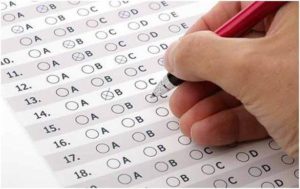 More than 150 academicians and scholars from various universities across the world wrote a letter to Prime Minister Narendra Modi in favor of conducting the JEE and NEET, 2020 examinations.
Students have been protesting the same in view of increasing cases of the virus.
The Supreme Court had last week dismissed a plea seeking postponement of the two exams amid an increase in the number of COVID-19 cases, saying the precious academic year of students "cannot be wasted" and life has to go on.
However, due to the current situation of a pandemic; students went on a hunger strike demanding postponement of the exam.
The ballad for postponing exams, including NEET 2020 and JEE Main, grew louder on Sunday with over 4,200 students who observed a day-long hunger strike.
Congress party demanded that the National Eligibility Test, NEET 2020 and Joint Entrance Examination, JEE Main exam should be deferred. Using the hashtag, 'SATYAGRAHagainstExamInCovid', many students also took this notion to Twitter for the government's appeal.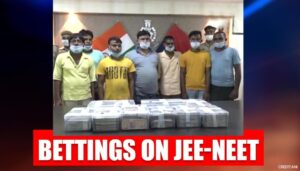 Kanpur police on Friday (August 29) busted a betting-gambling racket and arrested 7 people who were allegedly placing bets on NEET-JEE exams but racket's kingpin managed to escape.
According to police, the bettings were also placed on NEET-JEE exams.
"We have busted a betting-gambling racket and arrested 7 people on Friday. We have recovered Rs 38.25 Lakhs cash, 10 mobile phones and register from their repossession. Racket's kingpin managed to escape. It was found that they were also placing bets on NEET-JEE exams -if exams will be held or not," said Superintendent of Kanpur Police in a press conferenece.
He further said that the arrested persons were placing bets on the numbers of Sensex and other markets.
Follow us on Instagram and Twitter for more updates!