Gitarattan International Business School also known as GIBS was established in the year 2004. GIBS is affiliated to Guru Gobind Singh Inderprastha University, Delhi.
It is approved by All India Council for Technical Education (AICTE), Ministry of HRD, Government of India for technical programs, and Bar Council of India for Law programs. Institute is a self-financed private and co-education institution.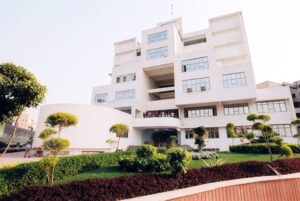 GIBS focuses on the overall personality development of its students. So that they can face the challenges in their competitive professional life with a value-based approach.
In addition to academic inputs, students are exposed to various co-curricular and extra-curricular activities. This helps them to hone their managerial skills both as professional managers and entrepreneurs.
COURSES OFFERED
MBA
MBA(International Business)
BBA
BBA LLB
BALLB
ADMISSIONS
The admissions are carried out strictly on merit basis through a Common Entrance Test (CET) conducted by Guru Gobind Singh Indraprastha University. For general and reserved categories, the University conducts central counselling for all the colleges affiliated with it for 90% seats except for management quota seats.
Students are required to choose the college/institute during the counselling. For application forms, the students are to respond to the advertisement by the University or its website www.ipu.ac.in.
The Institute conducts admission for 10% management quota seats as per the guidelines by Government of NCT of Delhi.
FACULTY
At GIBS, most of the teaching staff at the institute has at least 5 years of experience in their field of specialization. The teachers try to maintain a healthy and professional relationship with their students to help them reach their goals.
PLACEMENTS
GIBS has a helpful student-centric Industry-Institute Partnership Cell (IIPC). It brings by corporate leaders and students on a common platform so that students are exposed to multiple opportunities in the professional world. They do so by arranging Pre-Placement Talks, Special Seminars, Guest Lectures Summer Internship Fair and Industrial Visits.
A vast array of preeminent companies visits to campus in a search of the best talent. Capability Enhancement& Soft Skill Development Courses, Innovative Teaching & Learning methods. Career Counseling and Personal Counseling has abetted students to refinement and thus helped in the growth of placements over the years.
Representation from a wide variety of sectors for recruitment. Over 250+ Recruiters participated in 2019. Top recruitment companies are Amazon, BYJU's, HDFC Bank, ICICI, Safe Express, Ameriprise, Capital IQ, Asahi India Glass, Jaro Education & many more.
The Highest package: 12.3 LPA

Average package: 4.8 LPA
GIBS has gathered a wide database of companies with whom the IIPC interacts regularly. IIPC at Gibs takes special care to provide placement assistance to all the students.
With a strong legacy of highly placed alumni, the IIPC has been proudly working with the support of its alumni who are placed in companies of repute, such as IBM, Amazon India, PayTM, Wipro, ASSOCHAM, Jaro Education, Byjus, Bata, Axis Bank, ICICI Bank, HDFC Bank, IndusInd Bank, IFDC First Bank, SMC Global, WNS, 99 Acres, Ameriprise Financial, Naukri.com, KPMG, IBM, Genpact, Converges, Xeceedance, Moody's, Maersk, NIIT Ltd., Pearson, American Express, ICICI Group of Companies, Nagarro, ABC Consultants, Leeway Hertz, Daffodil Software, Anika International, Religare, Nirvana Financial, Square Yards, Channel Play, WNS, Policy Bazar, RNCOS and Taxspanner among many others.
For More Updates Follow Us on Instagram