National Recruitment Agency is responsible for conducting primary 'eligibility' examination for non-gazetted posts. The central government chaired by PM Narendra Modi decided to set up a common recruitment body called NRA on August 19, 2020. 
Which Section Initially?
Initially, the Agency will conduct exams for Group B and Group C, which are nontechnical posts. Whereas, currently Group B and Group C recruitment is done by the Staff Selection Commission(SSC), Railway Recruitment Board(RRB), and Institute of Banking Personnel Selection(IBPS).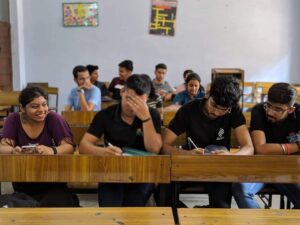 Mechanism of National Recruitment Agency
NRA will conduct a common test and based on the scores obtained by the candidates, IBPS, SSC, and RRB will conduct the Tier 2 and Tier 3 examination.
What's The Aim of NRA?
NRA aims to conduct separate exams for graduate candidates, 12th pass candidates, and 10th pass candidates. The scores received in these exams will be valid for 3 years which can be used to apply further for II-Tier recruitment.
Major Highlights:
There is no restriction on the number of attempts a candidate can give. The best valid score will be deemed as the current and ultimate score.

The exam will be conducted in a total of 12 languages based on a common curriculum.

There will be common registration, single fee, and the candidate need not travel outside the district for the exam.

A standardized question bank with multiple questions will be created in a central server.
Our PMO tweeted "The #NationalRecruitmentAgency will prove to be a boon for crores of youngsters. Through the Common Eligibility Test, it will eliminate multiple tests and save precious time as well as resources. This will also be a big boost to transparency"
The CET will create a uniform transformative process that was the opinion of the home minister.
Check our Instagram and Twitter for more updates.