The global pandemic, Covid-19, or Coronavirus has affected all the sectors of the economy in many different ways. Consequently, we are now more vulnerable to the use of the internet and digital media for business and education purposes.
While it has been a bit easier for urban India to adjust with the new changes but rural India has been facing a lot of challenges while trying to adjust to these sudden changes in their lifestyles. Professionals and entrepreneurs have adopted the new work from home policy and somehow have managed to do their work pretty well. But, for India's education system it is facing its share of challenges.
The sudden shift in the education system from the traditional classroom to E-Learning platforms has made it even more difficult for the students of rural India to cope up with educational challenges. They have been facing some major challenges in covering up their academic syllabus.
The 5 major challenges faced by students of rural India are:
1. Lack of Infrastructure
The rural Indian population is not as fortunate as the urban population in terms of technicality and digital infrastructural support. They do not have access to proper internet bandwidth, hence this becomes a prominent hurdle in the way of the online education system. Students are not able to attend online lectures because of this dearth.
2. Unskilled Teachers
Lack of skills amongst teachers is another big hurdle. Teachers do not have any idea about the use of digital platforms or E-Learning methods. They are not able to give the required attention to the students which are resulting in their loss in terms of knowledge and education. Teachers have also not received any pieces of training regarding the same, neither they have received their full salaries. This can be another reason for their casual behavior towards the online education system.
3. Camera Shyness Among Teachers and Students
Not everyone is comfortable with the use of cameras, especially for educational purposes. It has taken a lot of time for students to adjust to these new changes and making use of technology and camera for studying. Still, not many of them have not been able to accept it wholeheartedly. Ergo, students are facing disruptions in their academic calendars.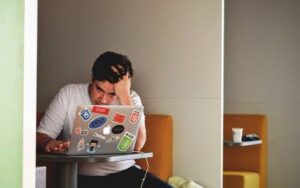 4. Lack of Money or Poverty
Parents are not able to afford the right devices for content consumption for their children. All of them do not have laptops or computers and phone screens are not comfortable for long learning hours. Daily data packs and their costs are highly expensive for most of the rural population.
5. Gender Inequality
Digital literacy is only available to men among most of the rural population. Therefore, providing education to the female population becomes even more challenging in rural India. Girls who were being sent to school are now not able to attend online lectures. This is an even bigger challenge that students have been facing during Covid-19.
Conclusion Regarding The Challenges
There is a constant need for the government to look into these issues and help the rural population in developing their infrastructure and providing knowledge and education among students as well as teachers regarding online education.
Follow us on Instagram for the latest updates!