Maharaja Agrasen Institute of Management Studies (MAIMS)
MAIMS was established in 2003 by Maharaja Agrasen Technical Education Society. The Society comprises a group of educationists eminent industrialists and people of high status from different walks of life. Society has got success in establishing institutions of repute in the areas of Management, Law, Engineering, and Journalism. It's ThinkQuest Club presents MIC 2020
The Institute has attained a distinct position in running BBA, B. Com (H), BA Eco (H), BA (JMC), BALLB (Integrated), and BBA LLB
programs affiliated with Guru Gobind Singh Indraprastha University, Delhi. The Institute was granted ISO certification 9001:2015 after meeting the updated requirements of ISO certification.
MAIMS has over the years grown into a premier center of excellence and has made its niche in the areas of teaching, research, consultancy, and corporate development. MAIMS has organized numerous faculty development programs, seminars, and conferences since its inception. Distinguished personalities from industry and academia participated in these events. The Institute publishes a research Journal namely: 'MAIMS Journal of Management,' ISSN 2249-0116 which includes research papers, articles from academicians, and corporate professionals of repute.
ThinkQuest Club
presents

MAIMS International Conference (MIC 2020)

On
Impact of Digitization on Education, Management Sciences, Information Technology, Law Enforcement, and Media
Objectives
• To bring innovative data analysis techniques for cutting-edge research.
• To foster long-lasting research relations between universities & industry for bridging the gap.
• To recognize upcoming and modern practices that have transformed the way contemporary organizations functions.
Themes
The broad themes of the conference are:-
• Education
• Media
• Law Enforcements
• Information Technology
• Management Sciences
Registration
Kindly visit www.maims.ac.in/mic to register for the conference.
Students/Scholars: INR 300
Academicians: INR 500
Corporates: INR 700
Foreign Delegates: USD 20
The above fees will be applicable for Early bird registrations on or before October 30, 2020
Guests| MIC2020 MAIMS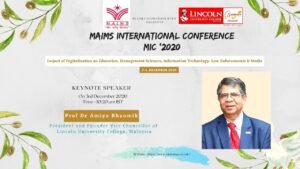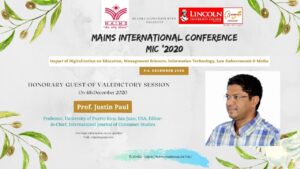 Paper submission
Full papers along with the extended abstract should be submitted before October 25, 2020, via the easy chair link mentioned on the conference website.
Kindly format the paper as per the guidelines given on the MIC 2020 website.
Conference publication
Accepted & presented papers will be considered for publication in:
• MAIMS Journals
• UGC Listed Journals (to be announced later)
• Scopus Indexed journals (to be announced later)
Copy of E-proceedings of extended abstracts would be provided to all the paper presenters at the time of the conference. The paper submitted to this conference should not be published elsewhere, nor it should be under consideration for publication in some other journal/conference.
Acceptance criteria:- 
• Double-blind review by the review committee
• Plagiarism report of Turnitin (<10% similarity index)
Paper Presentation Competition
For detailed themes of the conference, refer to call for papers on www.maims.ac.in/mic
The overall Best Three Papers will be awarded the cash prizes.
Rs. 8,000 – 1st Prize
Rs. 5,000 – 2nd Prize
Rs. 3,000 – 3rd prize
The best paper presentation in each technical session would be given a certificate of appreciation. Kindly refer to the website for the paper presentation guidelines.
Important dates| MIC 2020 MAIMS 
25th Oct 2020
Deadline for Submitting Paper
1st Nov 2020
Decision on Paper
8th Nov 2020
Submission of Paper after Revisions (if any)
15th Nov 2020
Acknowledgment of Revised Paper
2nd Nov 2020
Deadline for Registration
Follow Us On Instagram For More Updates!