What's The First Thing That Comes To Your Mind When You Think About Graphic Designer?
CREATIVITY, yes that's a skill required to make it big as a Graphic Designer. Those who have excelled in their career as a Graphic Designer have an aesthetics instinct and notice finer details. It is not necessary to have any previous training in design and graphics to become a Graphic Designer and or Web Designer. One can enroll in the Graphic design program of any institute to learn graphic designing, web designing, mobile app designing, digital graphics, website UI, etc. These topics will help an individual to become an expert in page layout techniques, visual arts, and typography.
What is Graphic Designing?
Graphic design is the process of visual communication through the use of typography, photography, iconography and illustration. The field is considered a subset of visual communication and communication design, but sometimes the term "graphic design" is used synonymously.
Why Should You Pursue  Graphic and Web Design Course?
Today, the Internet plays a major role in our lives where we visit websites and mobile applications for our day-to-day activities. With affordable and advanced Internet connections, the world is connected virtually, thus increasing the demand for graphic and web design experts. In recent times, students of Web design and Graphic Design are seen with high paying jobs with the option to get freelance opportunities.
Advantages of Graphic and Web Design Course
As mentioned earlier, one does not need to have experience in designing to start a career in Graphic and Web Design. If an individual has a passion for a creative career, then he/she can simply join a 6-month course and kick start a career as a Graphic and Web Designer. Some of the advantages of pursuing a Web and Graphic Designing course that will separate an individual from the crowd are –
The gift of appreciating design and understanding what it takes to be the maverick. Also, one will be able to become creative, original and do spectacular jobs to grab the attention of viewers
Understanding the Font choice and how it will complete a design. A Graphic and Web Designer will be able to quickly tell which Font and what size will go with a design
Staying updated with the latest color trends. In design, the color choice is the biggest part of a design and all it takes is a keen eye to be perfect
Comprehend the power of Branding and Brand loyalty. For a designer, branding is not limited to a logo, it is the feeling that connects the consumers with the brand
What is a Graphic and Web Design Course?
Graphic Designing and Web Designing is a career for creative minds and the journey is a life-long one where one always finds a way to think outside the box. The Tech Mahindra SMART Academy for Digital Technologies offers a course to help you become one. The Graphic and Web Design course is designed to train students to become experts in conveying messages through visual communication and presentation. The course helps students to understand the usage of branding and advertising.
Apart from graphic designing and web designing, this program also focuses on training students in new-age digital skills in the area of mobile app designing, digital graphics, website UI, etc.
Graphic and Web Design Course – Career Prospects
After successful completion of the course, students will be eligible to get a job in any of the following setups:
Magazine or newspaper publications
Web development agencies
Government offices that require graphic designers
Private enterprises
Blogs and web forums
With the penetration of digitalization and the Internet, almost every firm today requires a digital designer and if not, the scope of freelancing in the field is quite vast too. Web-designing expertise is a much sought-after skill and fresher in the field stands eligible to earn a handsomely.
Santanu Hazarika
Santanu Hazarika is a visual artist based in New Delhi/Mumbai. He gave up engineering to become the first-ever Redbull World Doodle Art Champion in 2014. Santanu has a substantial roster of clients such as Red Bull International, Adidas, Reebok, Harper's, NDTV, Ministry of Culture, Gully Gang, Azadi records, Ritviz, and hip-hop artists Raftaar among many others. He creates intricately detailed illustrations and paintings inspired by Japanese Anime and loves to explore themes relating to Mythology, philosophy, and pop culture in his works. In addition, 'live doodling' and designing customized sneakers are some of his creative outlets. Santanu is the perfect example of a self-taught, independent artist.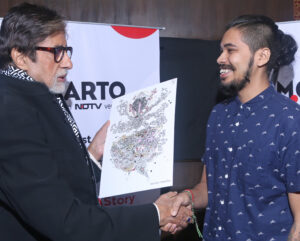 What is doodle art?
Doodle art is underrated as an art form. It's a fun way of expressing yourself but is also a brilliant way of experimenting and learning to draw. Doodles give a unique insight into your artistic style, conveying parts of your personality not shown through other mediums of art.
Some of Santanu Hazarika's doodle art and illustration:
The main design principles are explained and illustrated below.
1. Contrast
2. Balance
3. Emphasis
4. Proportion
5. Hierarchy
6. Repetition
7. Rhythm
8. Pattern
9. White space
10. Movement
11. Variety
12. Unity
What constitutes the "basic" principles of design is certainly up for debate. But understanding and implementing the principles covered above is vital to the success of any design project.
Designers should aim to understand how each of these design principles actually impacts their work. Studying how other designers have implemented these ideas to structure their own designs is also an incredibly valuable tool in learning to create better designs.
Ipubuzz presents you with a Designing workshop with non-other than Santanu Hazarika!
There's more, 'live to doodle' and designing customized sneakers are some of his creative outlets. Working in a niche framework.So what are you waiting for?!
Register for this amazing workshop and be the artist you want to be!
Register here- http://bit.ly/WorkshopwithBuzz
Follow Us On Instagram For More Updates!