Mental health refers to the psychological, emotional, and behavioral well-being of a person. It refers to how one behaves, talks, speaks, thinks, and functions, how a person faces all the challenges, what difficulties he comes across, and how a person decides to cope up with personal and professional life issues. Therefore mental health is not just about mental disorders but a lot more than that.
It is very important for each and every person to take care of their mental health in order to take care of their physical health because mental health directly affects physical health, personal relationships, professional relationships, and day to day lives.
Factors Affecting:
Sleep Deprivation
Physical or sexual problems
Substance abuse or addiction to alcohol, smoking, etc.
Bad childhood memories
Unhappy professional life or marital life
Social stigma (being gay or lesbian and not being accepted by society)
Poverty
Lack of emotional love or connection
Lack of self-care
There can be many more reasons like these which affect our daily lives and mental health but people are scared to talk about these problems and prefer to face it alone.
Now let's talk about the current scenario, the coronavirus pandemic when everyone (including adults, senior citizens, and children) have been forced to sit at home. This sudden change in our lifestyles has affected everyone's mental well being in some way or the other. It has been quite normal during this outbreak that people have been experiencing a wide range of emotions or mood swings while being at home.
Although the unlocking phase is taking place and people have started to head out of their houses, but the situations are not the same as before. We college and school students are still at home and facing these issues and mood swings.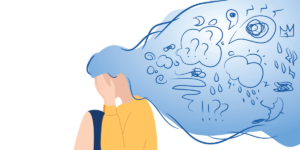 The Most Common Reason Which Has Affected Mental Health Or People
During Corona Pandemic Are:
Changing eating habits
Fear of one's own health and the health of loved ones
Facing financial issues without any preparation
Changed sleeping patterns
Lack of emotional support
Grief
Domestic violence/arguments
Not being able to meet closed family members and friends for a long time
Lack of concentration
Anxiety
People often confuse mental health as depression but it is not only about depression but about how a person feels and thinks. A smiling face can hide a lot of pain. It is very important for all of us to start talking about mental health with each other and start consulting counselors instead of treating it as a taboo.
It is not necessary to wake up when something happens but instead try to keep a reality check on yourself and your loved ones as well. It can make a big difference altogether. Take care of your physical health and mental health as well.
Follow us on Instagram and Twitter for more updates!