My Dear Readers,
It is frequently asked by many how significant to pursue a BBA degree is. Mainly college students have this doubt because they have the curiosity to know how to distinguish BBA from a similar course B.Com. 
A BBA degree is a three-year full-time course. It provides the choice to explore a lot of domains in contrast with other degrees like engineering and Technology. The time you invest in this program permits you to identify the topics that relate to your future profession, like Business Environment, Entrepreneurship Development, Human Resource Management, Knowledge of Finance even including GST. BBA programs provide a platform for all students to gain expertise in all domains even in the initial stage of their careers. One can easily attain expertise in core traits of management like design thinking, critical thinking, leadership, and how effective we must be in our communications in the business world. 
A Bachelor's in Business administration degree is designed to set a solid foundation for the students in the area of business administration, Marketing and Sales Management, Business Finance, Human resource management, and Entrepreneurship. Even before the completion of your degree, you are eligible to choose from many opportunities pertaining to different fields as your career. This flexibility is given to all students. The curriculum is designed in a planned way for college students so that they can easily learn strategic planning to organizational worth and grasp monetary value also. It is a three-year full-time course that gives students the opportunity to hone their skills by conducting multiple projects and grasping all the theoretical work of the technologies and the design patterns that are followed in the organization. 
Why Choose BBA?
Employers from industries look for traits like leading the cross-cultural team, Team building, and critical thinking to analyze the problems in the organizations and resolve them efficiently.  BBA degree gives all these skills by making you learn organizational theories and how to put them into practice. Even the employers are giving preference to the graduates who have these skills. During the course, now students are also motivated to take up some MOOC courses and value-added courses to strengthen their skill set.  So, when the course completes, until then students already grabbed lots of valued certification also under the guidance of faculty members. And this expertise makes them exceptional from the crowd.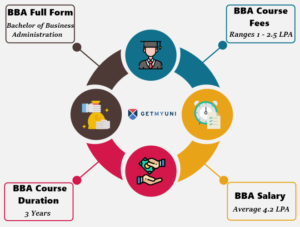 Potential Professions after BBA
First of all, BBA sets the platform for all of those who want to pursue an MBA. Also, BBA is a very good stream for students who are weak in mathematics but wants to pursue a great profession in the future. So BBA is combining the subjects of B. Com with management and student can easily attain the required skills provided by both the streams.
The potential profession paths in BBA are many from the area of Digital marketing to core strategic policymaking. Few possible careers may be a Sales manager, Digital marketer, Financial Analyst, Human Resource Manager, Event Planner, and many more.
Besides this, many students can initiate their start-ups because the BBA program emphasizes hone the skills to identify the opportunities available in the environment and then convert your idea into a business.  So, during the entire course, entrepreneurship is in focus.
Conclusion
Holding a BBA degree solves dual purpose, first, it is setting the solid background or foundation to understand the in and out of every business. Secondly, it is facilitating the student with all the dimensions of business concepts, design, and critical thinking to resolve business problems which are nowadays a must to enroll in an MBA program from any reputed University/Business School. 
BBA facilitates a broad platform with enormous professional choices, in contrast to different other UG programs. BBA is always a promising option to develop a student's career. BBA courses are industry-tailored or customized courses aimed at equipping the student with requisite managerial skills. BBA in various domains like Banking and Insurance, General, Information Technology, Media management, etc. are offered by many universities.
Finally, it's appropriate to conclude that BBA has bright future facets. BBA degree stays an extremely engaging choice among all undergraduate programs. If you're planning on pursuing a management degree, you must as well take the leap and choose this to pursue.
Dr. Nidhi Gupta
Professor & Head-Department of Management Studies
Jagannath International Management School, Vasant Kunj
Follow us on Instagram and Twitter for more updates!