Maharaja Surajmal Institute is organizing a hackathon along with WiTech India. The institute is coming up with the hackathon along with WiTech India.
The hackathon is organised and will be conducted over a span of three days. It will be a hackathon organised to look into the preeminent technologies like artificial intelligence, machine learning, augmented reality and virtual reality.
All About The Event | Maharaja Surajmal Institute Hackathon
The hackathon being organised by Maharaja Surajmal Institute will have mentors from around the world. One of the mentors is Mr Andreas Bresser, who's a researcher at the Robotics Innovation Center in Germany and has been working in the field of artificial intelligence.
The second mentor, attending the event is Ms Mina Hyeon, who's the producer and co-founder for the Storytelling Studio in Seoul, South Korea and specialises in AR and VR.
For judging the entire hackathon will be two esteemed judges from Canada. Mr Ruchir and Ms Meenakshi Verma will be judging the event on the third day.
Schedule of The Event | Maharaja Surajmal Institute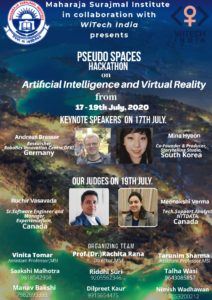 Day 1 (17th July 2020, Friday)
​1. A workshop on AR/VR by our mentor Ms Hyeon from Seoul.
​2. A workshop on AI by our mentor Mr Bresser from Germany.
​3. Allotment of problem statements to the participants.
​Day 2 (18th July 2020, Saturday)

​1. Availability of our mentors to help the participants for their doubts.
​ Day 3 (19th July 2020, Sunday)

​1. Presentation of the project via presentation/prototype to the judges by the participants. (3 minutes each team)
​2. Declaration of winners.
The registrations are open till 14th July. The entire event will be taking place on Gooogle Meet and Discord. Moreover, the event has exciting prizes for the top three teams worth ₹2-3 thousand.
You can register yourself by clicking here for the hackathon. So, all the tech enthusiasts get on board.