Management Education & Research Institute also known as MERI is a private college established in 1994, affiliated with Guru Gobind Singh Indraprastha University and located in Janakpuri, Delhi. MERI is recognized as a non-government unaided institute under section 2 by UGC.
Major courses offered| MERI
Club Activities
CSR Club
E-Cell Club
Literary Club
Dance Club
Guitar / Drum / Congo / Keyboard Club
Sports Club
The clubs unites, informs, and supports dancers, artist, guitarists, singers, and music enthusiasts. The aim of the clubs is to combat social isolation in an informal setting by learning and sharing knowledge. These clubs aim to encourage players of all standards to realize their best potential and to promote different skills in the wider community.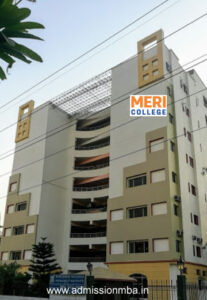 Facilities
1. Lecture Room
Equipped with an LCD projection system together with a microphone and public address system.
2. Library
The library at MERI college is one of the best-maintained libraries amongst the business schools of Delhi- NCR region. With the state of art facilities, the library is well stocked with more than 20000 books apart from the reference material and electronic databases. Besides the books, the library also accesses to over 1500 journals and business magazines of national and international standards.
3. Computer Lab
The air-conditioned computer lab at MERI Institute is well equipped with the latest advanced computing systems. All computers have the latest versions of widely used original software programs, laser printers, and scanners integrated with LAN and 24X7 Internet connectivity.
4. Auditorium and Conference Room
MERI Institute provides for a spacious auditorium with the latest audio-visual aids, ideal for lectures by Senior Executives of industry, seminars, and academic activities of the students. The auditorium is made available for the overall development of students through extracurricular activities. The Hi-tech Conference Room serves for the Management Development programs.
5. Amphitheater
A beautiful open-air amphitheater offers a wonderful ambiance for the entertainment of students and open-air functions.
6. Gymnasium
The gymnasium has all the latest fitness and health gadgets including joggers, treadmills, and weight lifting equipment, for the students.
7. Hostel
'A home away from home', provides a safe and comfortable living environment for the students. Separate, A/C, and non- A/C hostel accommodation available for boys and girls.
Placements| MERI
The placement cell regularly engages with prospective recruiters by identifying the companies for the professional deployment of our students. The Training and Placement cell also identifies skills and employability enhancement certifications for students and conducts training modules in synergy with industry needs on campus where possible. MERI placement cell will partner with you to help you source talent from Management & IT graduates. The placement cell will assist you to fill full-time, internship, or project-based roles. In addition, you can build a strong brand on campus by hosting students on career treks, through on-campus presentations, or participation in numerous networking events and executive panel discussions.
Follow us on Instagram and Twitter for more updates!