Believe it or not, the final year exams have now begun in offline mode.!
Yesterday was the first GGSIPU final year exam that was held. As per guidelines generic measures include simple public health measures that are to be followed to reduce the risk of COVID-19. These measures need to be observed by all (staff, students, and parents) in these places at all times. GGSIPU  had also released a notice prohibiting COVID-19 positive students to visit exam centers as a safety measure for other students.
Notably, students have been protesting against the UGC for allowing universities and colleges to hold final-year exams amid the ongoing COVID pandemic. They have maintained that the pandemic has already created a lot of emotional and financial stress, apart from the risks of being exposed to the virus if exams are held. Students want that these exams to get canceled or held once the situation goes back to normal.
A handful of pictures, allegedly from one of the GGSIPU affiliated colleges, have been doing the rounds of the internet. The students are seen avoiding the social distancing norms while reportedly gathering at the exam center allotted to them.
The social distancing norms did take a backseat at the Maharaja Agrasen Institute, Rohini. The students trying to enter the exam center weren't able to maintain the required distance. However, as per an eye witness account, it has been reported that proper sanitization and temperature check facilities were available at the college.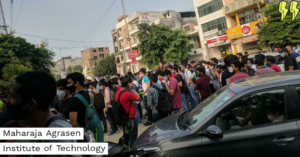 But in some colleges, our correspondents reported that the students were quite satisfied with the measures taken by their respective colleges. The students around the Guru Gobind Singh Indraprastha University appeared for their final year examinations while maintaining proper social distancing and sanitization measures like at New Delhi Institute of Management and Trinity Institute of Professional Studies.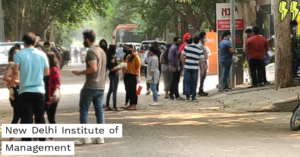 As per guidelines given by the Government of India, examination centers are required to follow a certain set of norms in order to successfully conduct final year exams during the pandemic while taking all safety measures and precautions. With more exams of various subjects are going to be conducted in the upcoming days, let's hope everything goes well and good and nobody gets infected!!
Till then, Keep Buzzing!
Follow us on Instagram and Twitter for more updates!