Agitated over the Centre's farm laws, Farmers in Punjab have allegedly cut the power supply to around 1,500 Reliance Jio mobile towers.
Because of the sudden cut-off, widespread communication outage in different parts of the state has been reported.
According to sources, approximately 200 mobile towers are being damaged daily in the state.
Amarinder Singh, Chief Minister of Punjab had earlier appealed to the protesting farmers to not indulge in vandalism.
He even asked the police to take strict action against those who damage mobile towers in the state.
As mentioned in the Indian Telegraph Act 1885, Section 25, clear imprisonment of 3 years is stated if one damages telecom equipment.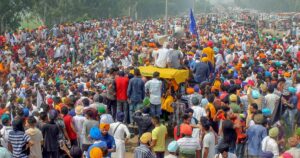 Why Are Farmers Targeting Reliance?
Over the last week, farmers have been venting anger against Reliance, snapping power supply, cutting cables of telecom towers and damaging infrastructure of the firm owned by Mukesh Ambani, seen as one of the major beneficiaries of the farm laws.
Some bundles of Jio's fibre cable were also burnt in Jalandhar.
Videos of Jio employees being threatened and made to flee have been widely circulated.
No strict action has been taken by the state police so far.
Pointing out that his government had not objected to, or stopped, peaceful protests in the state, Mr Singh said that damage to the property and inconvenience to people in any form will not be tolerated.
Efforts are being made in reminding the farmers that such communication breakdown will be costly for students, especially those preparing for Board exams and professionals working from home due to the Corona outbreak.
Banking and other services are also largely affected since these are now dependent mostly on online transactions, the Chief Minister added.
Farmers are gradually losing patience as even after days of continuous halting on the borders of Delhi, no solution has been found. They are persistently demanding that the Centre scrap the farm laws, but the government is still not ready to grant.
The situation is expected to become better with another meeting to be conducted on Wednesday.
(With inputs from India Today, NDTV)
Follow Us On Instagram For More!