While COVID-19 continues to pose a threat to many, the college faculties have a new thing to worry about.
Numerous complaints from the students with fees hike and mismanagement from college authorities are common these days. I
Interestingly, now the faculty members are speaking against insufficient remuneration. Recently, one staff member has spoken to bring problems to our notice.
What Is The Entire Issue Regarding Insufficient Remuneration?
The matter folds out with a tweet. Around a week back, a person tweeted about "IP University affiliated college in Janakpuri" charging a regular fee amount, while the faculty members are facing a salary cut.
The person went on to mention "the owners of this institute are enjoying a substantial decrease in their overheads."
In a mail received by IPU Buzz, it was stated that the professors and lecturers have been "put on no-pay again".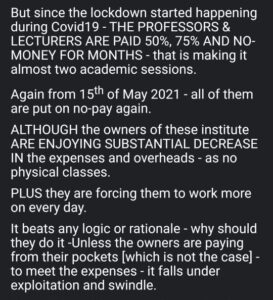 Why Insufficient Remuneration Matters?
While we all are fighting a deadly virus, the question remains that why should we care about all this?
If you are a student then this is a clear misuse of your money. With no relief from the college in the lockdown times, the least we can expect is the right use of our money.
With no real overdue expenses, salaries are the only real expenses. If the staff is not getting paid correctly with your fees, there is a major thought to spare.
If you are a teacher, your institute might go down this path. Maybe, you are also suffering from such situations and are not able to reach out. The institute seems to have a clear priority on personal expenses. The situation is sad for any educational institute.