Baithe Baithe hue bore?
Then take part in this event and show off your creativity, by IINTM college.
This pandemic has affected our lives in many ways. We all are aware of the fact that how COVID-19 has taken a toll on our mental health. "Empty mind is the mind of the devil", stress and anxiety are nothing but devils of this era. Boredom forces us to overthink and to find an escape from reality. 
Doing creative things is the most powerful weapon to kill boredom and save us from these devils.
The Department of Commerce and Management of IINTM college is organizing a virtual fest, i.e, Management Euphoria 2.0. Management Euphoria 2.0 is the management fest of IINTM which focuses on the holistic development of students by enhancing their technical and competitive skills.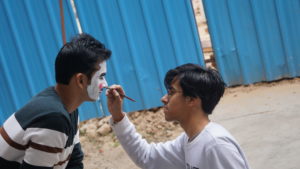 There will be 6 events where you can fill colours, use the brain, show talent, and leave your impact.
TRADE VULTURE (Mock Stock)
"The forecast is troublesome, extraordinarily if it's about what's to come."
If trading and stock market interests you or you can nail the fundamentals of capital markets, then this is surely your game!
IPL BIDDING(IPL Auction)
"Auction with affordability", What is your ultimate bidding strategy?"
We all love cricket but IPL Auction is a brain game. If you're smart enough to form bidding strategies, then you should definitely give it a try.
M² QUIZ (Metro × Mythology)
Would you be able to deal with the blend of metro knowledge and Hindu epics? 
Do Hindu epics like Ramayana or Mahabharata make you inquisitive? Or are you a metro freak who is familiar with all metro stations? If your answer is a big YES then go and prove yourself!
ART EMBLAZE(Online Painting Competition)
 Do you have a creative heart? 'sculpt your expression on paper.'
Are you someone who creates creative arts and can paint the world colourful? Yes? Show it off then!
Design Graphically (DIGITAL POSTER COMPETITION)
Bored in lockdown? Show some artistry creativity with digital aid. 
Having a designer's perspective but then creating it technically is two different things but if you have both these skills then this competition is your escape to boredom.
Apna Hero Khud Bano! (STORY WRITING)
Why idealize someone, if you could be your self-motivator.
You like fiction and you're a fan of superheroes/superwomen? Pen down your heroic fictional story and be a writer! 
BUT even if you do all this stuff, what would you get?
Everyone will get the participation certificate.
Winners will get achievement certificates and EXCITING CASH PRIZES worth rupees 10,000/- and exciting vouchers as well.

Register yourself through https://forms.gle/CckpeL2PSFdDovL18
Note – The moment you pay the registration charges, we will consider your entrance.
You Might Also Like: All You Need To Know About Freelancing