Calling out a mob for openly graphically descriptive rape threats, calling out a mob for an openly descriptive lynching in lieu of defending gods and their culture, this is relatable to a huge majority population of netizens. None of it sounds foreign when the description is of a man sitting on the rear seat of the car in a parking lot and threatening while through a closet. The man is none other than Hindustani Bhau.
In recent turns of events after massive reporting, Instagram deleted the account of Vikas fhatak aka 'Hindustani Bhau'.
What happened next?
Soon after, where netizens were full of praise for this move and twitter was abuzz with memes and content in support of the move, a section idolizing him was unhappy and criticised the move calling it pointless and describing the account's content as 'harmless' and in favour of the nation.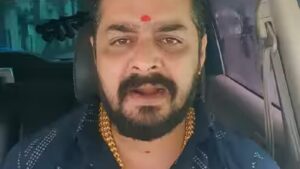 Also known for
After gaining fame with his YouTube videos, Hindustani Bhau participated in Bigg Boss 13 as a wild card contestant. Before entering the show, he spoke to the national daily The Indian Express  about the criticism he receives for his content. 
Excerpts from the interview
Excerpts from the interview "This is my best chance to show people that I am much more than just my abusive videos. I also have a family at home, and why would I abuse people or defame them without reason? I am a nation lover and anyone who speaks ill against my motherland will have to face the brunt. There were 48 channels that uploaded anti-national videos, and now, there are just two remaining. They all understood that I am the real king."
(via inputs from India Express and various others)
For more updates follow us on Instagram and Twitter