After a halt of around 10 days, GGSIPU is back to its daily routine.
Previously, GGSIPU had released a notice to suspend the classes till 15th May 2021 to relax students from the ongoing online classes. The relaxation has helped many students overcome their challenges and relieve their stress. As GGSIPU restarts classes, students are hoping for lesser assignments.
Student's Reaction
As the clock hit 9'O Clock, most of the students were late for their classes. The 10 days have done enough damage to their sleep schedule. Talks regarding the laziness in joining classes and all those pending assignments started ruling the Whatsapp groups again. "Where is the link" has now got its due.
Teacher's Reaction
The halt was helpful not only for students but for teachers as well.
Teachers got the time with their families. After the well-deserved rest, teachers are active in the group again. The classes were more relaxed and a happy vibe could be felt through the teacher's voice, as reported by a student. The student went on to say that the teacher was more relaxed as compared to before the halt.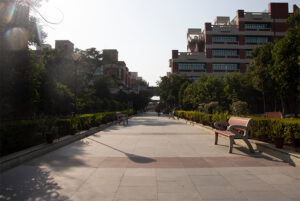 The Vibe of The Class
The halt aimed to improve the mental condition of both the teachers and the students and give a happier environment to the classes. With the classes going on, there was surely a relaxed vibe in the classes.
The answers were more prompt and freshness is felt in the class.
What Lies Ahead?
After GGSIPU restarts classes, students are keenly looking for more steps from the university.
They expect universities to look to other matters like fee hikes, continuous assignments, and last-moment updates to reduce their stress. After a halt, an extension of the semester is a possibility.
But, most students do not want it. The extension of the semester also implies a short summer break. Students now want the assignment and syllabus to reduce to prevent the semester to extend.