Easing the tension of thousands of students, GGSIPU has finally released a detailed notice dated 13.01.2021 in which the university has elaborated about the date of commencement of the odd semester end-term theory examinations. This notice comes after almost a month of the last notice released by the University dated 17.12.2020 in which the examination was set to begin from 18th January, 2021.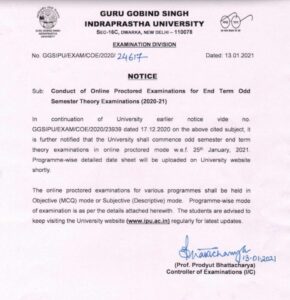 However, in the new notice, GGSIPU has confirmed that the exams would be held in online proctored mode from 25th January, 2021,  a week later than its previously fixed date. The University is yet to release the detailed programme-wise datesheet of the examination of all the courses but it has said that they would be uploaded shortly on the University website. The students are thus advised to keep checking the official website of the University regularly to keep up with all the guidelines for the end-term examinations.
Further, the University has addressed another important concern of the students regarding the mode of examination, i.e., whether the exams would be in subjective/detailed mode or MCQs/objective mode. This is also mentioned in a very detailed and programme-wise manner in the notice as can be seen below.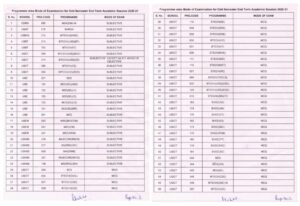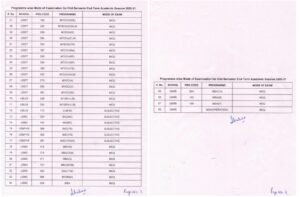 Some of the courses such as MBA, M.ed, B.ed., LLM etc are being held in subjective mode, however most of the courses offered by the University such as BCA, MBA, BA LLB, BBA LLB etc. among many other courses, the examinations are being held in Objective mode.
This notice has ended the month-long speculations of the students regarding the examinations and has answered all the queries raised since the release of the last notice of the University regarding the end-term theory examinations..
Most of the students are surely at ease after this notice since they wanted the mode of examination to be MCQs. It has also relieved those students who are out of Delhi and has saved them from the hassle of travelling in these times.
The students are now looking forward to further guidelines to be released by the University containing the information such as the software used for the Online proctored exams as well as the dates of examinations. Some are even hoping for some mock tests to be held so that they can familiarize themselves with the examination software to avoid any issues during the exams.
Follow us on Instagram for more updates!