Guru Gobind Singh Indraprastha University (GGSIPU) recently released a proposed date sheet for end-term exams for many courses.
GGSIPU had earlier posted an official notice in mid-December of 2020. The notice comes after the preceding notice which contains the dates regarding different exams.
After that, things started to become much clear as IPU kept on releasing examination notices from time to time.
The University along with the Delhi Government considered the online medium as the best option, keeping in mind the COVID-19 situation in Delhi.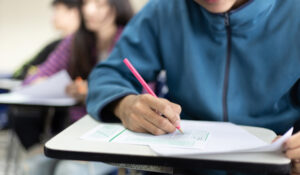 GGSIPU releases an End-Term Date Sheet for these programs
GGSIPU released a proposed online proctored theory date sheet for various programs during this week.
Courses for which the proposed date sheet is released are: BBA (General/B&I/CAM), B.Tech (USS) (BT/CE/BCE/IT/CSE/ECE) B.Voc. Programme (Regular and Reappear), M.A English (Regular/ Reappear), M.Tech. (BT/VE/BCE)-Regular and Reappear, M.Tech- CSE/IT/IS/ECE/DC/SP/ RF&A/VLSI-Regular/ Reappear.
Students can check the proposed date sheet for their course here.
The eligibility for appearing in online exams will be based on aggregate attendance. Every candidate is advised to check for any updates or changes made in the examination date sheet. 
There is an official notification about online exams from GGSIPU. However, the platform on which online exams will be conducted is yet to be decided as of now.
GGSIPU End Term Exams: Online Proctored Exams
GGSIPU is set to start the end-term theory examinations from 25th January 2021, with the dates and gaps varying for various courses.
For the first time in the history of IPU, the GGSIPU end-term exams will take place in an online mode.
There is a possibility of mock exams, according to some sources. In addition, these tests will be conducted in order to make the students more adaptable to online exams. The date sheet for the end-term exams is released for many courses. However, many students from different courses are waiting for their respective date sheets.
All the Best to Everyone!
Follow Us On Instagram For More!