Before taking admissions anywhere, all of us have a lists of questions regarding the institution that we want answered. For answers, we often turn to our solution to every problem, Google that provides us with the direct opinions and experiences of alumni of those colleges. Now, for those who are interested in taking admission in the colleges of GGSIPU, we have got you covered. Here are the 10 most googled questions about GGSIPU:
1. Is GGSIPU a Private University?
Under the provisions of Guru Gobind Singh Indraprastha University Act, 1998, Guru Gobind Singh Indraprastha University was established as Indraprastha University (IPU) on 28 March 1998 by the Govt. of NCT Delhi as a state university. The University is recognised by University Grants Commission (UGC). Formerly known as Indraprastha University (IPU), the university was officially renamed as Guru Gobind Singh Indraprastha University (GGSIPU) after the tenth Sikh Guru Gobind Singh in 2001.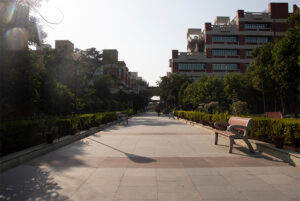 2. How Many Colleges Are Under IP University?
There are a total of 118 colleges affiliated to the GGSIPU out of which 83 are self financing and 35 are government institutes. The colleges offer a variety of courses including engineering, BBA, BALLB/BBALLB, Mass Com., medical studies. The colleges such as Maharaja Surajmal Institute, Maharaja Agrasen Institute etc. along with the main campus are one of the best colleges in the Delhi-NCR region.

3. How Can I Apply To GGSIPU?
To apply to GGSIPU, candidate must apply to IPU CET. The form for CET is available at the official website of GGSIPU- ipu.ac.in and where a candidate has to register and create a candidate profile. Then candidates can apply for the course of their choice. The form filling and submission of the form can be done in the online mode only.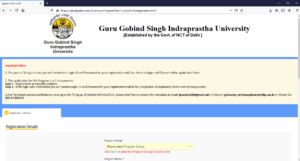 4. Can I Apply For Two Courses In IPU?
According to the official website of the University, a candidate can apply for multiple courses under a particular exam category using the same login id/ password. To apply for multiple courses, the candidates need to move to the 'course application' tab and click on 'apply for courses'.

5. Does IP University Accept JEE Mains Scores?
Candidates who wish to be admitted into B.Tech courses in IP University need to sustain the IPU CET 2020 eligibility criteria. For the purpose of B.Tech admission in the GGSIPU, candidates are required to appear for JEE Main Paper I. Indraprastha University will accept JEE Main qualifiers for admission purposes. However, candidates are required to fulfill the IPU CET eligibility criteria 2020 set by the university as well as eligibility criteria for taking JEE Main.
6. Does IPU Accept CAT & CLAT Scores?
Since the academic year 2019-20, GGSIPU has started accepting scores of National Level Entrance Tests for admissions in its colleges for various courses. For courses BALLB/BBLLB and LLM, CLAT-UG and CLAT-PG scores respectively are being considered by the University for admissions. Similarly, appearing CAT is also compulsory for admissions in MBA across GGSIPU. However, for admission in either courses, filling up of CET form is a must to get admissions.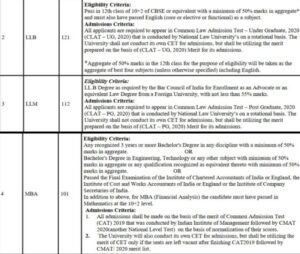 7. What Is The Fee Structure Of IP University?
The fee structure of IPU varies according to the course. The total fee includes tuition fees, enrolment fee, examinations fee along with other chargers payable by the students such as security deposits, etc. The complete information is available on the official website of the University.
8. What Is The Management Quota In GGSIPU?
Management Quota is a government authorized mechanism provided to private or deemed University by which students can secure Direct Admission in institute. Under the Management Quota, the colleges can give admission to any student who has given and passed the CET exam or National Eligibility Test (JEE, NEET, NIMCET, CAT and CLAT-UGC) conducted by the GGSIPU and National Testing Agency (NTA). The students need to make sure that they fulfil the criteria set by the University to be eligible for the Quota. The fees vary according to the institution and courses offered.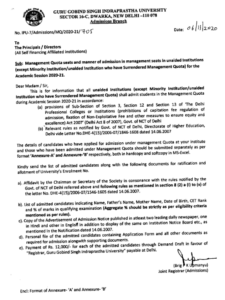 9. How Many Seats Are There In IPU?
From the academic session 2020-21,the Delhi Government has increased the number of seats at the GGSIPU to 1,325 seats in different academic programmes that are offered.
While the University already had more than 37,000 seats in its campus and colleges affiliated. It has further increased the seat intake of 630 more students in different streams of B.Tech courses, 220 seats in BCom (Hons), 120 seats in BBA, 120 seats in BA (Economics), 90 seats in BCA, 60 seats in MBA, 50 seats in MVoc, 20 seats in B Voc and 15 seats of Msc (Yoga).
10. Is There Any Reservation In IPU?
There are various reservations available to be availed by the students who fall into the reserved categories -SC, ST, OBC, etc out of the total seat intake. Along with these categories, there are also reservations for defence quota as well as for residents of Delhi.
Out of the total seats, 85% of seats are reserved for Delhi based students and 15% for outside Delhi Region students. In both Delhi and Outisde-Delhi categories, 15% of the seats are reserved for SC, 7.5% seats reserved for ST, 5% for defence category, 3% for PWD category and 27% for OBD category.
Follow us on Instagram & Twitter for more updates!