The students from various GGSIPU affiliated colleges are battling the fee hike issue. Amidst that came Delhi Technical Campus' fee notice.
The students of DTC are outraged on encountering the fee notice from the college authorities.
No Falling For The Sweet Words
The students of Delhi Technical College received a notice about "commencement of new session and registration for the respective courses" on their class WhatsApp groups.
Through the notice, the parents and students were informed about the entire plan of action regarding conducting classes from 4th August in an electronic (online) mode.
However, the college authorities subtly mentioned the 'provisional' fee amount and account details towards the end of the notice. Moreover, the students were indirectly told about the repercussions of not being able to pay the fee as the notice clearly mentions how registration for students' respective courses is only possible by paying the annual fee.
"It is a kind request to the parents to make sure that their ward has registered for the respective course/year and is in continuous online contact with the respective teachers. To register, you are requested to pay the Annual Fees for your wards to get the login ID and password",  reads the notice.
Why Is It Unjust? | DTC Fee Notice

The students did not avail any college facilities like laboratories, library, playground, cafeteria, smart boards, etc. The prospect of an offline mode of education seems bleak in the coming future as well. Keeping that in mind, the amount of the fee just adds to the woes of the students.
Not to forget that, on top of all this, the students will also have to bear the electricity and internet costs for online classes as well.
There have been massive job losses and layoffs since the lockdown was implemented around the country. According to a report by the Center for Monitoring Indian Economy, some 122 million people have lost their jobs in April alone. The business activity across the country has begun, albeit at a slow pace. Families are cutting on the basics to survive in these unprecedented times.
How is it fair to demand an enormous amount of fee in one go and that too in the ongoing situation?
These times are hard for everyone, even the college authorities. College operating costs are met through the fees paid by its students. However, demanding an exorbitant amount during the pandemic is not only unfair but inhumane.
Solutions
Students shall not be charged for the facilities that they are not availing. There should be a relaxation in the fee amount due to the same.
A proper break down of the fee structure shall be provided to the students for their awareness.
The students shall have the provision of making payment in instalments, rather than paying all at once.
How Can Students Raise Their Voice?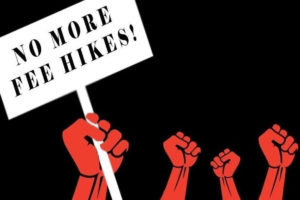 TWEETING AND RETWEETING

Tweet. Post. Share.
By tagging college authorities, HRD minister, Delhi CM and @ipubuzz in their tweets.

MAILING COLLEGE AUTHORITIES

By mailing college authorities about their concerns.