The students of Delhi Metropolitan Education (DME) have been distressed after receiving a fee notice from the college authorities on 16 July 2020. The notice titled "Commencement of New Session and Registration" has received a lot of criticism from the students.
The Fee Notice | DME Students Distressed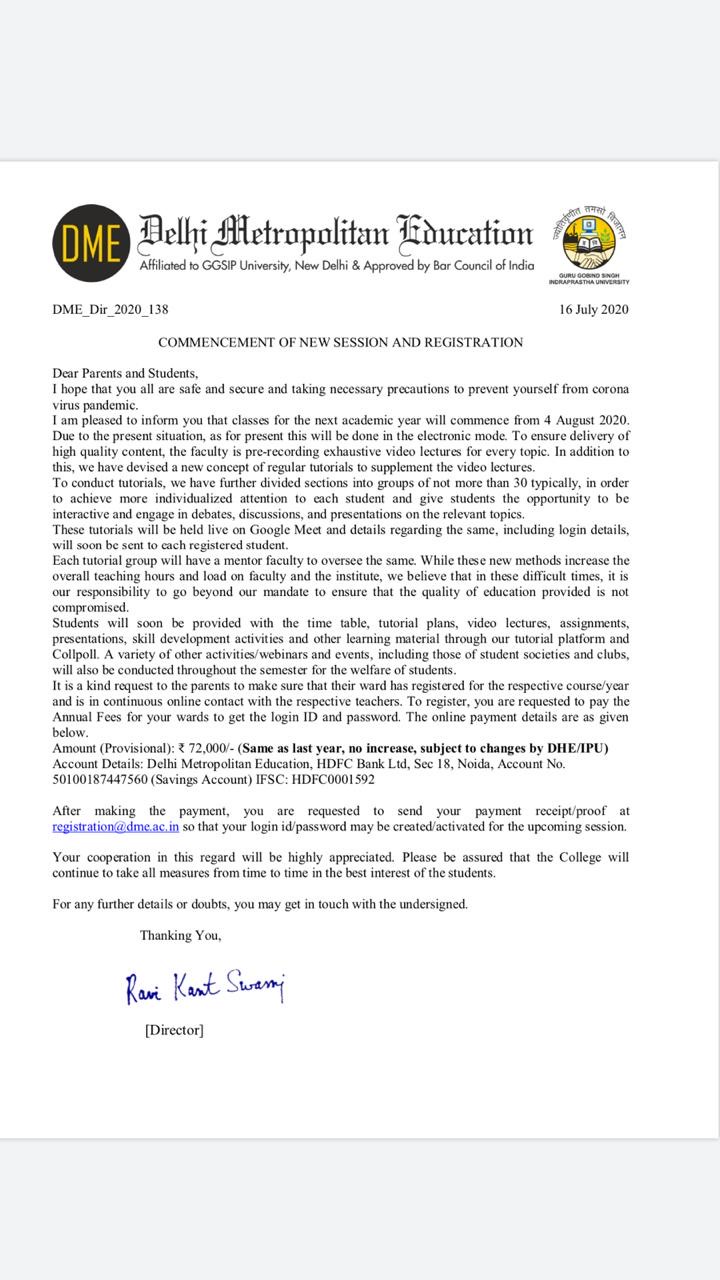 Students have been asked to pay such an enormous amount of money if they wish to attend the next Academic Session, commencing from 4 August 2020, that too in one single instalment. It is no news that families have been struggling to meet their daily ends. Many have lost their jobs and loved ones. It is bothersome that college authorities would even think of taking this step.
Many students have written to the authorities expressing their concern, but all their efforts went in vain. Authorities are either not responding or replying with insensitive messages.
"People are dying every day, it's a matter of life and death. 72 thousand rupees is not much at this point beta, fees dedo." was how Mr Ravikant Swami, Director of DME college responded to a distressed student.
ALSO READ: I Might Have To Drop Out | Fee Hike IPU
Fees in one single instalment: JUSTIFIED?
Students across IPU have been questioning if the colleges demanding the full college fee in a single instalment is even justified during these brutal times.
"We understand that college requirements depend on the fees however it must be a situation of balance for both students as well as college authorities, currently we are facing a situation where the fee charges are out of our economic conditions."
Because of the pandemic, colleges have been shut since March. Even though we all had paid for our second semester, we didn't avail any of the facilities that we paid for.
The fee is the same as "last year": College Authorities
The notice read in bold that the fee is the exact same as the "last year''. However, the situation isn't the same as the previous year. There will be no use of college infrastructure including labs, libraries, cafeteria, smart boards or any other college facility and services. So, why should we even pay for those facilities?
The College will provide online lectures and E-learning.  However, we ourselves will bear the data charges and electricity consumption charges for the same.
What can you do?
DONT STAY QUIET! 

Tweet. Post. Share.
Tag the college authorities, HRD minister, and @IPUBUZZ in your tweets.

MAIL THEM!

Mail your College Authorities explaining your situation and sharing your concerns.
Follow us on Twitter to stay updated.