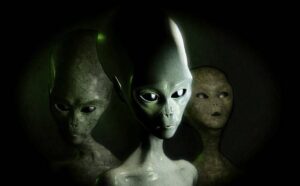 Former Israel Space Chief said that aliens are very much real and that "US President Donald Trump is aware of it". 87-year-old Haim Eshed, who headed Israel's space security programme for over 30 years – and a three-time recipient of the Israel Security Award – explained that Israel and the US have both been dealing with aliens for years.
Just when we thought this year could not be any more dramatic here comes – the news that every Star Trek fan only could have ever wished for to be true – Haim Eshed, Former Israeli Space Security Chief, made an unbelievable statement claiming that a select few human beings have not only known about the existence of aliens but have also been in touch with the 'Galactic Federation'.
What Really? Well yes…
In an interview with Israel's Yediot Aharonot newspaper, the professor said that aliens have specifically wanted the people in the know to stay shush and not announce that they are here, because apparently "Humanity is not ready yet."
The 87-year-old former head of the Defense Ministry's Space Division gave further descriptions about what sort of agreements have been made between the aliens and the US, which presumably have been made because they wish to research and understand "the fabric of the universe." This cooperation includes a secret underground base on Mars, where there are American and alien representatives.
"If I had come up with what I'm saying today five years ago, I would have been hospitalized," he explained to Yediot.
He added that "Today, they're already talking differently. I have nothing to lose. I've received my degrees and awards; I am respected in universities abroad, where the trend is also changing."
Controversies..?
If whatever that's been viral has even a pinch of truth in it, this might already coincide with US President Donald Trump's creation of the Space Force as the fifth branch of the US armed forces, though it is highly unclear how long this sort of relationship, if any, has been going on between the US which by far is reported as extraterrestrial allies.
But Eshed repeatedly urged that Trump is already aware of them and that he was "on the verge" of disclosing their existence. However, the Galactic Federation stopped him from doing so, saying they wished to prevent mass hysteria since they felt humanity needed to "evolve and reach a stage where we will… understand what space and spaceships are," Yediot Aharonot reported.
Well, as of now, there is no telling whether this information is true as there has been no official statement on these comments from any involved parties but Eshed, as it happens, does have a stellar academic record with decades of work and awards to show for it. And while we don't have definitive scientific backing at the moment, we do have to acknowledge this year do, in fact, was a year of mysteries and who knows we might have even got a chance to meet these spacemen creatures.
For More such content follow us on Instagram and Twitter