Offline Exams In GGSIPU Confirmed In January 2021: Nav Bharat Times
As per a report, Exams will most probably be taking place in the month of January with the duration being 2 hours and in offline mode.
University has not declared anything on its behalf but a source from Nav Bharat Times uploaded today said GGSIPU has confirmed offline exams, and it will be happening in January 2021.*Goosebumps*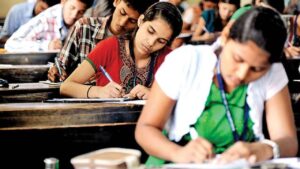 Is Coronavirus dying on new year's? It's going away in January for real? Unbelievable. We all have no idea why the university Iis not taking this seriously, or thinking this through student's points of view.
Many of us live out of town, It won't be possible for each of them to come back to town during exams. All of us come from different regions,  and we don't know how are sanitation facilities everywhere. There is a huge chance that most of us could get affected. Conducting offline exams is putting risk to each and every student who would come to give the exam.
It is very unsafe, all the other universities are managing online exams then why can't ours?
A viral video was surfaced online a few days back, in which the reporter was asking to one of the professors at GGSIPU about the end term examinations in which the professor replied "We have so many students in GGSIPU due to which it would be really difficult to take online examinations so that University will take offline exams.". If you cant manage so many students in online mode, how will you manage the social distancing of so many students in offline mode?
Also, DU has more number of students than IP yet they are managing online exams. and it is really not impossible, you know what is impossible? managing social distancing of so many students and hoping they won't get affected.
We are not saying to postpone the exams, or to cancel exams: WE ARE JUST REQUESTING UNIVERSITY TO TAKE IT IN AN ONLINE MODE. PLEASE.