What are basically theme-based cafes Or restaurants? Themed cafes Or restaurants are structured in a way to attract diners promising than a unique and memorable experience. The themes are defined through the architecture, designing, interiors, decors, and setting of the place.
Gone are those days when people used to visit restaurants just for the sake of tasty food. The demands of youth have raised much more than just good food nowadays. The ambiance, vibes, aesthetic settings, picture-worthy backdrops, and uniqueness are some of the factors which have been added to the list while choosing a cafe.
The choice of themes may vary from person to person depending upon their interests. Therefore, many theme-based cafes have been set up in Delhi NCR for the diners to create a profound and unforgettable experience.
1. Boombox Cafe
Theme: Music theme
Well, who doesn't loves music these days? All of us do, right? Hence, the Boombox Cafe is the place. The interiors of the cafe reflect hip hop music theme with wall graffiti and metal shutters. The cafe has three outlets in Connaught Place, Rajouri Garden, and Khan Market.
Must-Try: Pasta, Nachos, Brownie, Peri-Peri chicken, Cocktails and Mocktails
Average Cost: 2,400 bucks for two (might vary according to outlets)
2. Hogwarts Kafe
Theme: Harry Potter
Are you a Potterhead and often fantasize about being in the wizarding world of Harry Potter? If yes, Hogwarts Kafe is just made for you. A cute little cafe in Ashok Vihar with dark ambiance, beautiful interiors, and rustic wooden furniture. Visit Hogwarts Kafe and enjoy being transported to the world of Harry Potter.
Must-Try: Butterbeer, Waffles, Burgers, BBQ pizza, Spider web nachos, and Ghost rider chicken wings
Average Cost: 1,000 bucks for two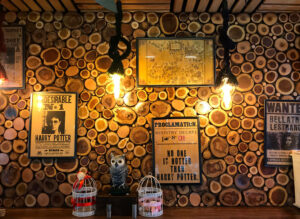 3. Hero Number 1
Theme: Bollywood (A town for Chichi's fans)
If you don't like to groove on Govinda's hit tracks like Ankhiyon se goli maare, Kisi disco mein jaye, and many more; we can't be friends anymore. Hero Number 1 cafe in Rajouri Garden is made especially for Chichi's fans. The place is a perfect blend of music, food, and ambiance. The portraits of Govinda add to its beauty. Even the menu is designed with a flavor of Bollywood in it.
Must-Try: Pasta, Nachos, Chicken Tikka, Virgin Mojito and Butter Chicken
Average Cost: 1,500 bucks for two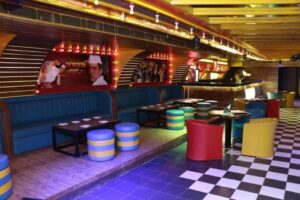 4. Tabula Beach Cafe
Theme: Exotic Beach theme
You have to agree with me on this! All of us plan a Goa trip to experience the beauty of beaches with friends throughout our college days but very few become successful in executing the plan. Well, it's okay. How about having feeling beachy vibes in Delhi itself? Yes? This is when Tabula Beach Cafe located in Asiad Village, Khel Goan Marg comes to our rescue. The simple yet elegant decor with woody touches, an amazing outdoor-indoor setting, and a small dance area will give a unique experience.
Must Try: Loaded nachos, Pizza, Rhum caramel dome and Grilled peri sole
Average Cost: 2,000 bucks for two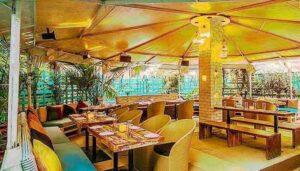 5. Uzzuri Deli
Theme: European Street Cafe theme
A European themed restaurant in Janpath having sophisticated interiors and pure aesthetic vibes will give a special experience altogether. The posters on the wall reveal a lot of stories and new places for its customers to discover next.
Must-Try: Salad, Banoffee Pie, Fish, Cocktails, Mocktails, and Pizza
Average Cost: 1,700 for two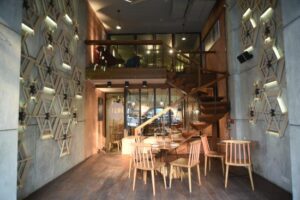 Follow us on Instagram for more!