Delhi, the capital of India is very much known for it's delicious and mouth-watering street food. Delhi and it's street food go hand in hand. You are not a loyal Delhi-ite if you are not in love with the variety of yummy food items famous in Delhi like chole bhature, kachori, gol-gappe, chaat, pakode and the list goes on. Oh Lord! Just a thought of having this delicious food makes all of us crave for it.
Let's have a look at the list of 5 places where you can get delicious street food in Delhi.
Chache Di Hatti
Chache Di Hatti is one of the oldest joints best known for it delicious and yummy chole bhature, served with special pickled salad. It is most famous among the students of Delhi University, North Campus. Chole bhature is one of the most famous Punjabi dish liked by almost everyone in India. But without a doubt, no place can provide you with best chole bhature is except Delhi.
Location: Kamla Nagar
Timings: 9:30 am to 4 pm
Cost for two: INR 100 – INR 150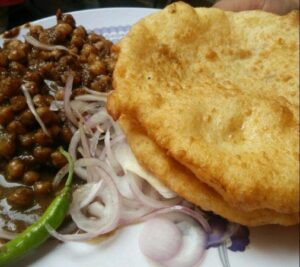 Natraj Dahi Bhalle Wala
Dahi Bhalle is a type of chaat dish originated form Indian subcontinent and popular all over South Asia. Natraj Dahi Bhalle Wala serving delicious dahi bhalle with perfect blend of flavours and textures will always make you want more. It is a mecca for all the chaat lovers out there. Make sure to visit this place to experience a flavoursome delight.
Location: Chandni Chowk
Timings: 10:30 am to 9:30 pm
Cost for two: INR 100
Khandani Pakode Wala
The name itself displays the heritage connected with Khandani Pakode Wala. The taste and quality of food has not degraded over the time. They are known for their variety of delicious pakode like potato, onion, cauliflower, paneer, baby corn, etc. served with khatti meethi chutney. Delhi-ites can never stop having pakodas and therefore Khandani pakode wala can never stop serving yummylicious pakodas to Delhi-ites.
Location: Sarojini Nagar
Timings: 10 am to 10 pm
Cost for two: INR 200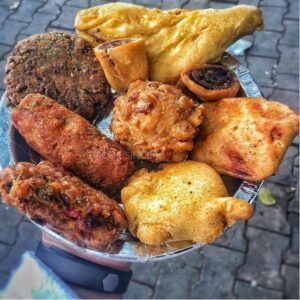 Atul Chaat
Aloo chaat and tikkis are famous all over India. But what everyone craves more for is Gol Gappe also called as puchka or pani puri. Atul Chaat is a landmark for all the Delhi street food lovers. Having gol gappe with a special flavour of Delhi in it is always a delight for foodies. Stop by at this popular Delhi street food joint for a quick and affordable yet delectable bite.
Location: Rajouri Garden
Timings: 11 am to 10 pm
Cost for two: INR 100
Spice Aangan
Spice Aangan is a must visit outlet for all the shawarma lovers. Best in quality, taste, species, shawarma rolls served with mayonnaise and green chutney will make you lick your fingers and ask for more.
Location: SDA Market
Timings: 11 am to 11 pm
Cost for two: INR 450
These are some of the places where you can find delicious street food which you cannot afford to miss.
Follow us on Instagram and Twitter for more updates!