GO CORONA GO
But HUNGER? It isn't going anywhere. That's where these saviours from the Nawaazish Crew come in. 
This pandemic has surely made our lives messier than ever and situations are getting worse than what we can even think of. One of the most important aspects which are being monitored is that nobody dies of hunger.
According to FAO estimates in 'The State of Food Security and Nutrition in the World', 2020 report, 189.2 million people are undernourished in India. By this measure, 14% of the population is undernourished in India. Also, 51.4% of women in reproductive age between 15 to 49 years are anaemic.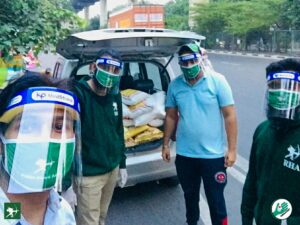 Due to the precautionary lockdown across the country, a lot of people are left with no work & scarce government support. The ones who are the only earning member of the family are facing the worst!
Intending to provide dry ration to the daily homeless, wage workers, migrant labourers, and the financially poor, Nawaazish Crew's launched a campaign Mission भोज(Feast). A group of a few college students who are on a mission to create a society of equal opportunities.
They have distributed 658Kg of dry ration during the phase I of their campaign,भोज. The total amount of ration delivered was 265kg whole wheat flour, 270Kg rice & 150Kg daal. This contribution provided meals to 30 families for 15days.
How All of This Happens? | Nawaazish Crew
The organization procures supplies from wholesalers at a cheaper rate without compromising the quality.
The next step is to hand-over the ration to the respective ground distribution partners. 

The same distribution partners pick up the packets from the wholesaler and provide ration to the ones in need after verification.
Each ration kit is procured at a cost ranging between ₹450 to ₹500.
A contribution of ₹500 provides 7kg Atta, 7kg Rice, and 3.5kg daal to families of four which usually lasts up to 14 days.
₹500 might seem a trivial amount, but it holds the power of feeding a family in need. Ever thought that how such a small amount of money can affect humanity? We all feel guilty or helpless at times when we see people suffering from basic needs. It's the time that we take some action by helping to combat hunger.
To support the same, Nawaazish Crew is back with भोज(Feast) Phase 2!
Go ahead and contribute to this fight against hunger.