William Shakespeare was a renowned and prolific English poet and playwright during the Elizabethan and Jacobean Ages of British Theatre. Shakespeare's plays are perhaps his most enduring legacy. He contributed some of the most amazing plays in the genre of tragedy for English literature. Some of the known works by him include- Hamlet, Macbeth, A Midsummer Night's Dream, King Lear, Twelfth Night, Julius Caesar, Romeo, and Juliet, etc.
Many of Shakespeare's plays have been adapted as Bollywood movies. Out of those 3 plays are:
1. Hamlet as Haider
Hamlet is Shakespeare's longest plays which has been adapted as a Bollywood movie Haider starring Shahid Kapoor as the protagonist. It also stars Shraddha Kapoor, Tabu, Irrfan Khan, and Kay Kay Menon It is a crime drama movie directed by Vishal Bhardwaj. Haider received lots of appreciation and awards including the National Film Award for Best Screenplay. The plot revolves around me Haider, a young man who returns to Kashmir after his father's disappearance. It is a must-watch with a phenomenal story.
Where to watch: Netflix or YouTube
Commitment: 2 hours 24 minutes
IMDb: 8.1/10
2. Othello as Omkara
Othello is a tragedy play by William Shakespeare which was adapted as a Bollywood movie Omkara in 2006. It is an Indian crime drama directed by Vishal Bhardwaj starring Ajay Devgan, Saif Ali Khan, Vivek Oberoi, Kareena Kapoor, Naseeruddin Shah, Bipasha Basu, and Pankaj Tripathi. Ajay Devgan playing the role of Othello is tricked by Iago (Saif Ali Khan) which leads to the death of Desdemona (Kareena Kapoor). Omkara also received great appreciation and won many awards.
Where to watch: YouTube
Commitment: 2 hours 35 minutes
IMDb: 8.1/10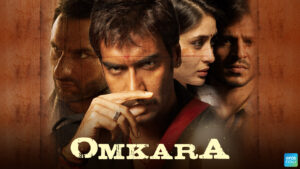 3. Macbeth as Maqbool
Macbeth is also a tragedy play by Shakespeare dramatizing the damaging physical and psychological effects of political ambition on those who seek power for its own sake. Maqbool stars  Irrfan Khan, Tabu, Pankaj Kapoor, Om Puri, and Naseeruddin Shah. This movie is also directed by Vishal Bhardwaj and received Zee Cine Award for Best Screenplay, IIFA Award for Best Dialogue, and many more.
Where to watch: Disney+ Hotstar
Commitment: 2 hours 13 minutes
IMDb: 8.1/10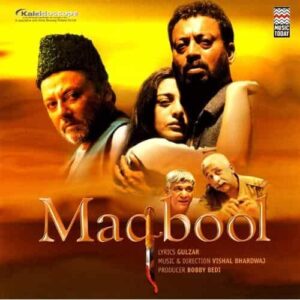 Follow us on Instagram and Twitter for more updates!