As we are getting closer to the end of 2020, there is a huge sigh of relief among all of us, specially GGSIPU students.
Not that we are expecting 2021 to be any better (bitter truth I know), but we are glad that this crazy year of inexplicable incidents is finally coming to an end!
Since there is no such happening thing to talk about this year, let's travel down the lane of emotions every GGSIPU student went through in the year 2020. (after all, "yahi baatein toh baad me yaad aayengi", right?)
1. Sudden shift from offline to online classes
Isn't it crazy that our college experience ended on a random Friday in March?
One fine day we were bunking classes, sitting in the canteen, making crazy moments with our friends and the other day, waking up post afternoon, seeing the faces of our mates and teachers through the phone screen.
2. Lockdown: Exciting then, Boring now
Video calls, Ludo, watch party with friends: all of this was new and thrilling in the beginning but became monotonous with time.
Little did we know that suddenly we will be confined to the four walls of our houses, waking up every day with zero energy and the same routine to follow and nowhere to go!
3. Daily struggle of planning to study
Every day when the alarm rang, we used to wake up with the thought of studying hard and not giving up.
But as the day passed by, our mind convinced us with that one same fake promise, "I will study from tomorrow at any cost!". And we all know, tomorrow never came. (Thus, Laziness-1, Study-0)

4. Fee hike
This by far seemed to be the most illogical agenda put forth by the University. Fee hike in such times? Makes no sense, right?
But it clearly did to GGSIPU. Anyhow, students had to pay the increased fee in a certain amount of time since they had no other choice.
5. Constant confusion regarding exams
"Are exams happening?", "What will be the mode of exams?", "Somebody please share the date sheet so that we can plan on studying accordingly!": Believe it or not, these have to be the most asked questions among the GGGSIPU student community.
Now that online exams for most of the courses have been announced, students are a bit relieved. (You know why)
6. Stack of assignments, Pile of stress
Even though all were well aware of the pressure this year put us through, no less stress was given by the University.
Tonnes of assignments, quizzes, tests, projects, presentations, files had to be completed in order to pass every subject and semester. (At one point, students were like, "Oh bhyi, maaro mujhe maaro!")
7. Even Netflix lost its charm with time!
Well, it's rightly said that "Excess of everything is bad". We realized the true meaning of this proverb when this year made us binge-watch almost every series and movie available online and we soon became irritated and bored.
But whatever we say, Netflix, Amazon, Hotstar, etc. have been true support to us in these tough times.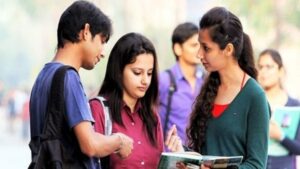 8. Bonding time with family
If anything worth remembering happened in this weird year, it has to be the amazing time we all got to spend with our loved ones.
Those sudden plans, board games, quality conversations with parents regarding anything and everything, all of these are the moments to reminisce.
9. "When will we get to see our college!?"
We still remember hoping for colleges to reopen till August, then September, and so on till we gave up all hopes left.
Every time an order came regarding the opening of colleges, we used to sit tight with the belief of meeting our friends soon. But, everything became crashing by when the final notice of no opening of Colleges till December 31, 2020, dropped on us. (Students be like- "Kya karoon main Marr jaaon? Meri koi feelings nahi hain?)
10. 2021, please be good to us!
Seeing the kind of impact 2020 made on the lives of each and every being on this planet, all we can do is hope for 2021 to be better.
Talking about GGSIPU students, all we pray for is smooth conduct of exams and a quick reunion with our college friends!
Lastly, 2020 has been nothing but a crazy, roller-coaster ride which we all successfully came out of. Let's hope for the coming year to be full of surprises, but good ones!
Happy New Year in advance to everyone!
Follow Us On Instagram For More!