By the end of 2020, almost all of us were ready for our colleges to open as soon as possible. But with the pandemic still going on with a very uncertain future ahead of it, most of us are back to missing the good old college days. Daydreaming about our favorite hangout spots all day could never suffice the real feeling of actually being there. Spamming the group chats about all the delicious food that we miss is never-ending. To salt our wounds, our social media keeps showing us memories from an year ago to show us all the fun that we are missing with our gang.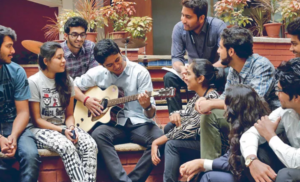 However, to reminisce the fun times, here are the 10 things every Maharaja Surajmal student will relate with-
1. Bunker's Lane
This place is so ironic since its name may be Bunker's Lane but for some reason, no one is allowed to hang out there and bunk classes.
2. Bank Ground
What better way to spend time than to stroll around the Bank Ground soaking in the winter sun and enjoying the taste of shared peanuts with your friends. It is one of the most preferred chill spot.
3. Shri Ram Paan
When the classes feel like forever and drain out every ounce of energy from everyone, this little shop provides with the perfect little refreshments to get you back up and running and is one of the prime places to hang out around the college.
4. No Space For Parking or Cars Getting Towed Away
The parking space is always so jam-packed that there is almost never any space left if you are just a minute left. When in rush, so many of us often park at wherever any space is available, without noticing the no-parking signs, only to find out later than the car has been towed away.
5. Cafes on Food Street
The cafes on the Food Street give a cozy ambience to sit and enjoy the various delicacies served by them. Frequent opening up of new cafes here helps ease the endless discussion among friends about choosing a place to eat.
6. Maggi On Maharaja Lane
The Maharaja Surajmal experince is totally incomplete without savouring the delicious maggi on Maharaja Lane that will leave you wanting more everyday.
7. The Old Canteen
The Old Canteen used to be where everyone would sit, talk, eat and enjoy the simplicity of college life with their friends. However, the old canteen had to be razed away to make way for a new campus building. The new canteen is near the second gate now, which makes up pretty well for the old one.
8. Dogs Around The Campus
Dogs Around The Campus – Our four-legged friends make sure to brighten our days by their cuteness all around the campus. No matter what mood you left you home with, but one look at them strutting along side you all the while wiggling their tails is a sight that is going to cheer you up no matter what.
9. T-Point Hangout Breaks
One of the favourite hangout spots for everyone at Maharaja Surajmal is T-Point, this place is one of the many go-to places around the institute.
10. Rickshaw Rides From Janakpuri East
To sit with your gang in a rickshaw every morning on the way to the college is something which makes the day a million times better and gives us the strength to go through all the classes. Little things like texting them something funny when there is someone else sitting beside you, cracking inside jokes and laughing crazily at them or even staying quiet during the whole ride is something we are all missing right now. These people surely make college so bearable and fun.
This year has surely made us aware of the beauty of all the little things in life. When the colleges open again, even the laziest of our friends are going to make sure that they hardly ever say no to any plans and hang out with everyone every chance that they can get.
If this little trip down the memory lane has left you nostalgic, then why reminisce alone? Share this with the people you would want to experience all the 10 things above all over again.
Follow us on Instagram & Twitter for more updates!