Struggles of outstation students started when they decided to go back for Holi celebrations and the country went in lockdown. Many students found themselves stuck in their hometown, not prepared for online classes. Their books, clothes, and personal belongings were stuck in their hostels. IPU has decided to conduct final year exams. The students' welfare and interests were not heeded. The struggles of Outstation students were not even addressed. In this article, we are going to address some main concerns.
Travel | Struggles of Outstation Students
In the middle of the pandemic, when the priorities should be to decrease travel and maintain social distancing, this decision is counterproductive. Offline exams will force these students to travel on trains and airplanes. When these were the hub of the spread in the earlier stages, it is certainly not in the best interests of the students.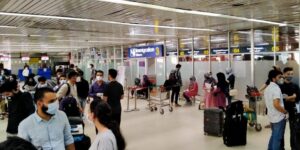 Accommodation
Many outstation students live in hostels or PG. However, many people are apprehensive of other people visiting their homes, striking PGs out of the option. Hostels and their accommodation have not been made clear by the hostel themselves. Hotels are the options available, not ideal for not just the environment to study but also pose safety issues. Hotels maintaining sanitation will be expensive, for sure.
Study Material | The struggles of Outstation students
Books, notes, and other required studies material are not accessible to students stuck in their homes. In this case, how is a student supposed to prepare for exams? Moreover, the exam preparation time is very short for students to make proper arrangements.
Are there any problems that we missed, reach out to us on our social media handles, and share your stories.
Follow us on Facebook, Instagram, and Twitter for the latest updates and wholesome content.