Gitarattan International Business School (GIBS) was established in the year 2004 under the aegis of Rohini Educational Society. The society is proudly running various other successful Institutions in Delhi like Gitarattan Institute of Advanced Studies & Training, Gitarattan Jindal Public School & The Sovereign School.
Gitarattan International Business School (GIBS) is affiliated to Guru Gobind Singh Indraprastha University, Delhi, and is approved by All India Council for Technical Education (AICTE), Ministry of HRD, Government of India for technical programmes, and Bar Council of India for Law programmes. The Institute  staying active is a vital weapon against COVID-19, which is why people will always be able to, and encouraged to, exercise even during periods of tough restrictions. People should try to ensure they exercise regularly in a way that suits them, as physical activity plays a vital role in both our physical and mental wellbeing. So Lakshya Sports Club of GIBS brings to you RUN4FUN E- MARATHON on 14th Feb 2021 at 10 am to promote physical and mental health among people of all age-groups across geographies.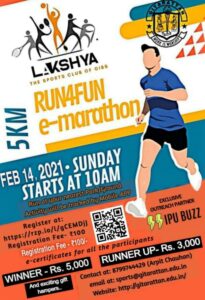 Run4Fun is a 5K running event that combines technology and real running. Participants will be given a 90 minutes window to start and finish their running in between that time. Competition is open for the age group of 18 years whether they are studying or working. Participants are allowed to run at their nearby grounds and parks.
Their activity will be tracked using the mobile app RUNKEEPER. All the participants can be tracked by us using the group function in Runkeeper App.
Data generated by the app and supporting videos and images sent by participants will be used to decide the Winner. Winner and Runner Up will get the cash prize of Rs 5,000 and Rs 3,000respectively with gift hampers.
Click on the link below to register
https://rzp.io/l/gCEMDjJ
For more details, visit
www.gitarattan.edu.in
Drop a mail at
sports@gitarattan.edu.in
Follow us on Instagram for more updates!