In a recent turn of events, on Monday morning Myanmar's military seized power after detaining de-facto leader Aung San Suu Kyi and other top members of her governing party, triggering condemnation and demand for the restoration of democracy in the coup-prone country from leaders and organisations across the world.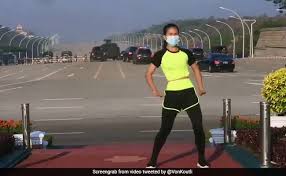 Who Is Aung San Suu Kyi?
Aung San Suu Kyi is the State Counsellor of Myanmar. Her close aide Win Myint is actually the president of the country, as the constitution forbids Suu Kyi from occupying the role as her children are foreign nationals, but she is "widely seen as the country's de facto leader" per BBC News. In November 2015, she led the National League for Democracy (NLD) to a 'landslide victory', officially taking the country out of Tatmadaw rule.
Suu Kyi, known as "the Lady", is a prominent political figure in Myanmar. She spent 15 years under house arrest before leading the NLD and was eventually released by the military government in 2010. In 1991 she won the Nobel Peace Prize for efforts in her non-violent struggle for democracy and human rights in Myanmar. 
(Some of us might remember her from our 8th-grade social studies books)
What Is Happening In Myanmar Right Now?
As Per ABC News, Myanmar's military has taken control of the government and has appointed Vice President Myint Swe, a former military officer, as the President of Myanmar for the remainder of the year. The Tatmadaw has cited Article 417 of Myanmar's constitution, "which allows the military to take over in times of emergency." 
It was the military that drafted this constitution in 2008, and Human Rights Watch described this clause as a "coup mechanism waiting to happen." Despite Myanmar's Union Election Commission (UEC) accepting the November election result, the military has accused its current leaders of election fraud. The military claim that "there were millions of irregularities in voter lists," but the UEC rejected these claims due to a lack of evidence.
What Happens Next?
The military then announced on its television station that it would remain in power for one year, with ultimate authority resting with Senior Gen. Min Aung Hlaing. It's unclear what will happen after 12 months, though some suspect the military will stay in charge beyond that.
The country which woke up to a nationwide blackout has witnessed two coups before Monday in 1962 and 1988.
For more updates follow us on Instagram and Twitter!
(With inputs from BBC, ABC, Vox and others)