Jagannath International Management School (JIMS) is a private college affiliated with Guru Gobind Singh Indraprastha University and located in Kalkaji, a locality in Delhi. It was established in 1997 by Jagannath Gupta Memorial Education Society.
Major Courses Offered
JIMS, Kalkaji, New Delhi offers the following three-year full-time programs:
1. BBA &
2. B.com.(Hons.)
Facilities| JIMS
1. Computer Lab
All the computer centers at JIMS are equipped with Pentium based Networking System running on Windows platform. To facilitate research and development work, computer labs with Core i3 2nd generation 2120 with 18.5 TFT's monitor have been installed with the latest software and are linked to High-Speed Internet Connectivity round-the-clock.
It facilitates the students with the right atmosphere to study and enhance their knowledge. The library provides books by a diverse range of authors, with the latest editions and journals/magazines for all management subjects. It has computerized issues and receipt facilities as well as internet links to other prominent library systems. Reference books and newspapers are also accessible to the students to look into the environment and to improve their general awareness.
3. Conference Hall
The conference hall of JIMS is ultra-modern and well equipped with the latest smart interactive audio-visual and presentation tools to assist smooth presentations. The air-conditioned Conference Hall has a seating capacity of 35 people.
4. Auditorium
The auditorium is entirely air-conditioned and is equipped with the latest audio-visual aids. Having a seating capacity of 130, the auditorium provides excellent infrastructure support for conducting academic sessions, like lectures or group discussions.
5. Cafeteria
Canteen tends to be the most popular place on the campus. It not only creates a college culture of healthy eating but also caters to bonding among the students. It provides a variety of refreshments and meals and is a great place to relax in between the hectic academic sessions. At reasonable prices, the cafeteria provides hygienic and good quality of food and sometimes even provides a great place for discussions and working on assignments.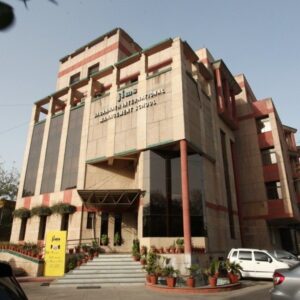 Placements
JIMS BBA and B.Com students have good demand in the job market. Every year, top companies hire BBA and B.Com students of JIMS for an annual salary of Rs. 2,00,000 – Rs. 3,00,000. Students of BBA and B.Com will have an option to take part in placements or proceed for higher studies.
Some of the popular companies that hire BBA and B.Com students of JIMS are JK Tyres, HCL, Genpact, Amazon (India), Cafe Coffee Day, VIVO, British Telecom, Urban Clap, etc. Many BBA or B.Com students secured jobs in off-campus placement drives earlier. The on-campus placements are the best opportunity for students to pick up top companies that suit their capability.
Follow us on Instagram and Twitter for more updates!