A new day with more colleges with fee hike issue.
Students from various institutes are protesting against orders to make payment of full fees, saying they haven't used any campus resources. With COVID-19 cases continuing to surge across the country, several higher educational institutions have resorted to online classes for its students, with a hike in fee structure.
However, though classes are being held virtually, many colleges are demanding payment of full fees, which include infrastructural costs that the students are not currently accessing.
As a result, students from several of these colleges are now refusing to pay the entire fees or are facing financial problems.
Its been reported that students of DME and BMIET are facing issues of fee hike in their colleges.
As per students of DME
"On 7th September, 2020, IP University issued a notice of revised academic tuition fee for affiliated colleges in NCR region according to which the 2017 batch of students are required to pay the excess amount before their viva or else they will not get their viva marks. (Screenshot of mail attached)
Now, the college says that the current 3rd year batch of 2018 will have to pay the spiked fee of the current year as well as of the previous because it is confusingly mentioned in the notice issued by the University on 7th September.
Similarly, the current 2nd year students are to pay the spiked fee of current year, the previous year and the coming year as well.
But, for 2nd and 3rd year students are not yet given an official notice of this yet.
As per students of BMIET
"The college is asking the students who were admitted in the academic year 2019-20 to pay the excess amount of fee of 2019-20 as well as 2020-21, failing to the payment of which Rs.50 per day will be charged as fine."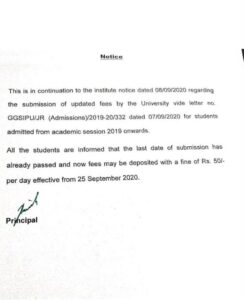 It is no news that this pandemic has adversely affected almost everyone in one way or the other. The COVID-19 pandemic has had far-reaching consequences beyond the spread of the disease itself and efforts to quarantine it, with people losing their jobs and barely being able to survive.
For many households, the condition is so bad that it has boiled down to surviving on two square meals in order to get through the day. Paying a hiked fee when it's difficult to even earn the bread and butter is impossible for final year students as they are already stressed with final exams being held in offline mode.
This whole issue has taken a toll on students as well as parents, giving no solution at all. Their voices still go unheard and unaddressed. Is it right how college authorities are handling this situation and are letting their students remain in distress?
Follow us on Instagram and Twitter for more updates!