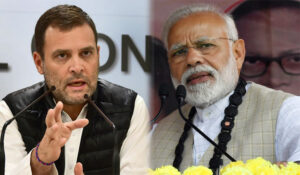 Highlights:
Rahul Gandhi and several other Congress members walk out of the Defense Parliamentary panel meeting
He walked out soon after he was barred to talk
Said the panel was wasting its time by discussing the uniform of soldiers
Parallel to the top Congress leader Rahul Gandhi two other party MPs on Wednesday marched right out of the Parliamentarian Standing Committee on defense alleging that the committee was wasting their time by discussing armed forces' uniforms and ranks in lieu of matters of National Security.
Right before the Congress' Parliamentarian members marched out, Sanjay Raut- Shiv Senas MP dismissively abandoned the meeting as soon as the chairman spurred discussions on the list of agenda of uniforms and ranks of forces. Some members also claim that Rahul and Raut exchanged a note mocking the rationale of the committee discussing such subjects.
What Led to The Walk-Out?
A war of words broke out, when Gandhi who arrived on the eleventh hour, learnt that the panel was boondoggling around contemplating ranks and uniforms when Indian soldiers, on the other hand, were dissenting crisis on the borders and the committee should have focused on discussing strategies and ways to better equip soldiers stationed at the borders.
Gandhi was, however, called off by Oram, who said discussions would remain limited to the fixed agenda, which was to acquaint members about the rank structure, stars, and badges of the armed forces.
"It was decided in the previous meeting, which Rahul did not attend, that members of Parliament should be made conversant with ranks and uniforms since it is sometimes very embarrassing for senior officers when a lieutenant general is addressed at the lieutenant, and members confuse other ranks as well." D.P. Vats. addressed to TOI, BJP MP, and Lt General (retired).
"Politicians cannot have the right to decide on the uniforms or badges of armed forces," Rahul exclaimed to the panel profusely.
Thenceforth, Gandhi and his colleagues Rajeev Satav and Rewant Reddy solicited explanations from the committee on why the committee failed to discuss the LAC situation concerning China. Oram, however, barged in and barred him to continue, which led to this heated exchange. As Oram continued to disallow him, Rahul then muttered that there was no point in attending for they did not want to hear him which then stemmed out as a deserted conference.
Opposition's Take
Sources said some Opposition MPs, including BSP's Danish Ali, told the meeting that Rahul should have been heard and it was not the way to treat a senior leader.
Sources said Opposition MPs were of the view that the government does not want to discuss serious issues. They claimed they had demanded a discussion on the Ladakh border row in the last meeting but the ruling side had not agreed to it, the TOI quoted.
For More such content follow us on Instagram and Twitter